Omni Military Loans Blog:
10 Awesome and Inexpensive Father's Day Gifts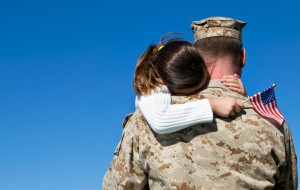 It's June and that means Father's Day is just around the corner. Are you ready for Sunday, June 15? If not, there's no need to worry. Here are some quick and simple budget-friendly gift ideas for paying tribute to all the dads in your life. Whether Dad is home or deployed, there is still time to surprise him in a memorable and special way. From sweet DIY gifts from the kids to military- and patriotic-themed items, check out these easy options for expressing your love.
10 Inexpensive Father's Day Gifts
All About My Dad – Let your children fill in the blanks of this free Father's Day printable and give Dad an adorable gift he will treasure forever. Frame it for an extra-special presentation.
Care Package – If Dad is overseas, he will love a care package. Fill it with homemade goodies, handwritten cards and drawings by the children, photos or a recordable picture frame.  Take a look at this creative care package idea.
Coupon Book – A fun coupon book for the "World's Greatest Dad" would make a great gift from older children or grandchildren. Download the free template from MarthaStewart.com and print out coupons that can be redeemed for a free car wash, lawn mowing, and more.
Dad Rocks Paperweight – Show Dad how much he "rocks" with this fun paperweight made from flour, pebbles, and other things you probably already have at home.
Day of Pampering – Guys like to be pampered too. This Father's Day, let him sleep late, treat him to a home cooked breakfast, and surprise him with a basket filled with shaving cream, sunscreen, skin lotion, foot powder, shampoo, nail clippers, and other grooming essentials. Try making this exfoliating foot scrub with olive oil, honey, and sugar and save some money.
Father's Day Sports Slippers – Using a few supplies from a dollar store or a craft store, you can give Dad a pair of comfy slippers customized with his favorite sport.
Footprint Flag Canvas – With handprint "stars" and footprint "stripes," this is a precious and patriotic work of art. Make your own with just paint and a blank canvas (and help from some little hands and feet).
Homemade Bacon Salt – Is your guy a bacon lover? Cook up a little spice for him with easy-to-make bacon salt. With just three ingredients you can create the perfect seasoning for eggs, baked potatoes, popcorn, grilled cheese, and more.
Military Dad Clothing and Accessories – Know a dad who has a son or daughter in the military?  Help him express his pride with military dad gifts from Zazzle.com. Choose from a large selection of items such as t-shirts, hats, mugs, and much more.
Military History Books – Military history buffs will enjoy this great selection of books about some of America's most important war stories.
Omni Financial wishes all dads a Happy Father's Day!