Omni Military Loans Blog:
10 Must-Make St. Patrick's Day Drinks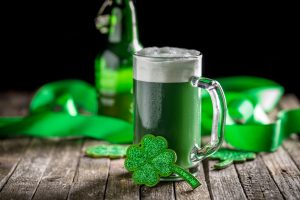 On Friday, March 17, Irish and the Irish-at-heart around the world will be celebrating St. Patrick's Day, the feast of the patron saint of Ireland. This international fete of Irish culture is recognized with parades, shamrocks, traditional Irish foods, and yes, adult beverages. One of the most common drinks of the day is green beer. If you want to go beyond this favorite bar staple, consider making some of these 10 fun and festive cocktails. People get really creative with St. Patrick's Day drinks and these are options that you are your guests will love.
Cheers!
10 Must-Make St. Patrick's Day Drinks
Green Apple Martini – Candy is the lucky charm. The Green Apple Martini is a colorful twist on a martini using green apple Jolly Rancher-infused vodka.
Irish Mule – A refreshing combination of Irish whiskey, ginger ale and lime.  An Irish take on the Moscow Mule and Kentucky Mule.  Preferred serving is in a copper mug or Collins glass.
Luck of the Irish shots – Fun, pretty dessert shots with layers of Crème de Menthe, Crème de Cocoa and Irish cream. Garnished with whipped cream and a chocolate mint of course!
Wicked Little Leprechaun – Irish and non-Irish eyes alike will be smiling with this tasty blend of vodka, blue Maui schnapps, lemon-lime soda and orange juice.
Green Sangria – This slightly more sophisticated alternative to beer is made with white wine, blue curaçao and other ingredients including green apples and grapes (that means it's practically healthy!).
Sparkling Shamrock – Champagne and Midori melon liqueur make a bubbly combo for your St. Paddy's Day toast. Add a touch a sweetness by dipping the glass in sugar and serving the drink with a sugar-covered melon ball on a toothpick placed over the flute.
Drunken Leprechaun / Pot o' Gold cocktails – Two fruity drinks made with sour apple schnapps, coconut rum and pineapple juice. The difference between the two? A drop of food coloring.
St. Patrick's Irish Creamsickle – A seriously sweet and yummy cocktail consisting of vodka, Midori, lime juice and the pièce de résistance – frozen lime fruit bars!
Fuzzy Leprechaun – Shake up some peach schnapps, blue curacao, vodka, and orange and pineapple juices to enjoy this fruity, fabulous bright green drink.
Original Irish Coffee – After watching a parade, take the celebration inside and warm up with a hot glass of Irish coffee, a classic cocktail that dates back to 1943. Made with Irish whiskey, brown sugar and slightly whipped heavy cream, Irish coffee is a real treat and the perfect ending to your St. Patrick's Day festivities.
Bonus:  Green Beer – While there are many St. Paddy's Day-inspired drink selections to choose from, for many people, the holiday wouldn't be complete without a pint of green beer. Making green beer couldn't be easier – just add 3-5 drops of green food coloring to a pint glass and slowly pour in light-colored beer.  Some recipes suggest using blue food coloring.  According to this article in Food and Wine, blue food coloring "yields the best results because it balances light beer's natural yellowish hue."  Whether you use blue or green food coloring, the results are the same: a simple-to-put-together drink that will get everyone into the spirit.
Happy St. Patrick's Day!