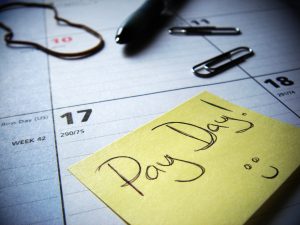 Military Paydays
Defense Finance and Accounting Services (DFAS) provides payment services to the U.S. Department of Defense. Active duty and reserve members have the option to be paid once a month or twice a month. Most service members choose to be paid twice a month. If you select this option, the pay dates are the 15th of the month (the mid-month pay date) and the 1st of the following month (the end-of-month payday). If the payday falls on a holiday or a weekend, you will be paid on the last business day before the 1st and the 15th.
Pay will be deposited directly into your bank account. The amount deposited is your net pay ("take-home" amount) which is your gross pay minus any applicable deductions including: 
Federal and state tax withholdings

 

Tax payments

 

Debt collections

 

TSP contributions

 

Allotments such as insurance premiums, rent, mortgages, Combined Federal Campaign contributions, privatized housing payments, and U.S. government debt repayments

 
Below are the military paydays for 2019. These dates cover all military branches including:
Army
Army Reserve
Army National Guard
Marine Corps
Marine Corps Reserve
Navy
Navy Reserve
Air Force
Air Force Reserve
Air National Guard
Coast Guard
Coast Guard Reserve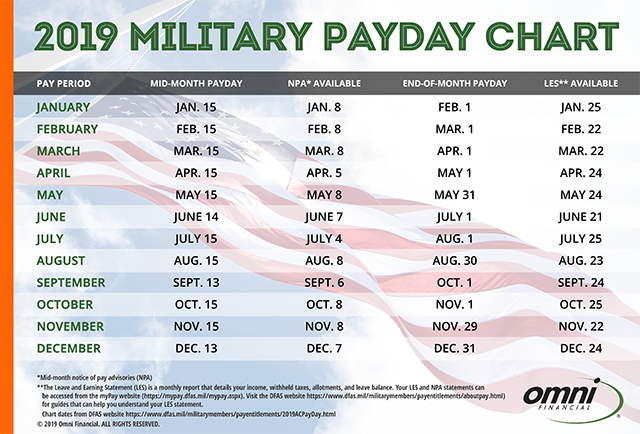 Budgeting Your Military Pay Check
Your bills seem to arrive in the mail every day, but you only get paid on the 1st and 15thof the month. Here are some tips that can help you stay on track with your payments.
Plan a budget
The first step to getting financially fit is to understand how your money is being spent every pay period. This template for a Bi-weekly Personal Budget plan can help you get started. It breaks down your income and expenses by pay period. Enter your estimated expenses, actual expenses and calculate the difference. You might be surprised at the results. If you're in the red, take a step back and carefully examine each line item. Identify ways you can "tighten your belt."
If it looks like you have money left over at the end of the month – good for you! Think of ways you can get the most value out of these funds like paying more than the minimum on your credit card or other loan, or transferring that money to a savings or retirement account.
Pay bills early
By paying your bills when you receive them, even if they are due later in the month, you avoid the temptation of spending money that should be allocated to these essential expenses.
Change payment due dates
Are you sometimes unable to cover some of your bills because the due dates don't coincide with the dates you get paid?  Consider switching the payment due date of some of your bills. Try changing the billing cycles of your credit cards, car loans, utility companies and insurance to dates that align better with your paydays. If you use autopay you may be able to change the date online.
Build an emergency fund
An emergency fund provides an important financial cushion just in case you run short on money between paychecks. Setting up an automatic savings plan is an easy way to build your savings. The premise is to pay yourself first, just as if you were your own bill. Read this Omni article for more information on how automatic savings plans work and the benefits of having one.
The information provided in this blog post is for informational purposes only. It should not be considered legal or financial advice. You should consult with a financial professional to determine what may be best for your individual needs.