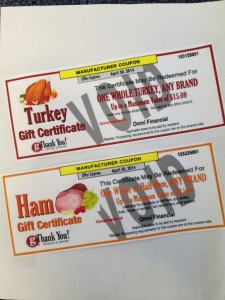 Holiday Giving Program
Omni Financial is happy to announce that it recently conducted its annual "Holiday Giving Program," an initiative to help military members who may be in need during the holiday season.
Omni General Managers in each of the branch offices around the country provided up to five local service members with certificates good for a free Christmas ham. The certificates could be redeemed at the Commissary or at any food store that accepts manufacturer coupons.
The Holiday Giving Program has proven to be a major success over the years with over 1,200 certificates given out annually.
Since Omni General Managers are retired military and most of our Customer Care Specialists are former military or military spouses we understand the hardships experienced by today's service members…we have walked in their shoes.
This Holiday Giving Program is just one of the many ways Omni looks to support and thank those serving in the military.