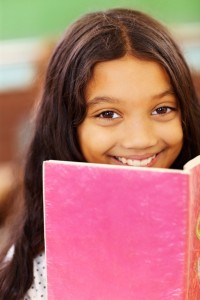 For military children, frequent moves and parental deployments are a way of life. Unfortunately research has shown this lack of stability can negatively impact a child's literacy skills. To promote reading and help military children maintain their literacy proficiency, Blue Star Families created Books on Bases.
Blue Star Families
Blue Star Families is a non-profit organization that supports, connects, and empowers military families, and Books on Bases is one of its most popular programs.  Started in 2009, the program's mission is to "positively impact the lives of military children through the power of reading."  As part of the program, free books are distributed to children at community and base libraries, Department of Defense schools, and military-impacted public schools.
The book distributions are family-friendly events that often feature games, snacks, crafts, and other special activities such as guest readings by Generals and Colonels, teachers, or authors.  Volunteers from Blue Star Families, as well as civilian volunteers who have hosted book drives,  participate in these fun, morale-boosting events.
Supported by Disney, Random House, BAE Systems, and many other corporate and non-profit partners, Books on Bases helps children build their personal libraries, while improving their self-confidence and educating parents on the importance of reading to their children.
Since its inception, Books on Bases has distributed over 100,000 books to over 120,000 military children around the world.  This year, Blue Star Families is planning on holding over 100 Books on Bases events around the United States.  If you are interested in holding an event in your military community, Books on Bases invites you to email them at books@bluestarfam.org.
To learn more about Books on Bases, visit the Blue Star Families website or view this video: