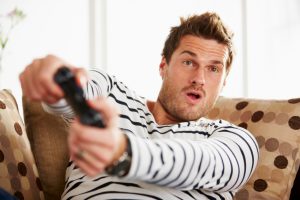 Without a doubt, one of the most popular gaming franchises among active duty and retired military personnel (as well as the rest of the gaming community) is Call of Duty. And, over the last eleven years, there have been no less than 16 titles in Activision's award-winning roster with the seventeenth installment scheduled to be released this November.
Like those that came before it, Call of Duty: Advanced Warfare is one of the most eagerly-awaited first-person shooters of the upcoming holiday season. As such, gamers are chomping at the bit to learn everything they can about the newest release in this hyper-realistic and insanely addictive series.
What We Know About Call of Duty: Advanced Warfare
At the recent E3 conference, Microsoft opened up a little about what gamers can expect in Call of Duty: Advanced Warfare. Here's what we know so far.
Welcome Private Mitchell
In the single-player campaign, gamers will be playing through a variety of wartime scenarios as Private Mitchell. The game's campaign spans ten years of Mitchell's military career, from his origins as a raw recruit to the battle-hardened veteran he was always destined to be.
The Game Takes Place in the Future
Call of Duty: Advanced Warfare is set in the future, but exactly how far into the future is not 100% confirmed. Some reports have the game being set in 2054 while others have it in 2059. Regardless, gamers can expect to be fragging the hours away using some exciting new tech-heavy weaponry and vehicles.
Introducing the Soldier Redefined
True to the game's futuristic setting, soldiers are equipped with state-of-the-art technology that makes them more akin to superheroes than mere mortals. They wear exoskeleton battle armor, or exos, that enable them to exhibit extraordinary strength. Soldiers in the future can carry massive amounts of gear without being hampered; they can spring-jump long distances, turn over vehicles to use as cover, hover in air when dropping down from heights, and even turn invisible using a built-in cloaking device. And, at the end of each mission, gamers will receive points based on their performance which will allow them to upgrade their exos with exciting options, bells, and whistles.
All-in-One "Smart" Grenades
In Advanced Warfare, the warfare is, well, advanced! Instead of having to lug around a variety of different grenades for various purposes, soldiers are outfitted with just one type of grenade – the smart grenade. This incredible incendiary allows you to choose the type of grenade you want it to be before you toss it. And as if that isn't cool enough, smart grenades hover momentarily in mid-air and then fly towards a target before exploding!
A New Type of War
Unlike other Call of Duty titles, which usually see America taking on other countries, this latest incarnation pits the U.S. in an all-out war against a private paramilitary corporation called, Atlas. Atlas wants to shift the balance of global power by forcing the U.S. into a devastating and demoralizing war.
The Golden Gate Bridge Bites It… Again
Is there a natural disaster movie or wartime video game where the Golden Gate Bridge doesn't get destroyed in some incredible fashion? Well, if the E3 demo is any indication, San Francisco's landmark bridge is about to fall victim yet once again.
Despite Its Futuristic Details, Call of Duty: Advanced Warfare Isn't a Sci-Fi Game
The Call of Duty franchise has been loyally built upon realism and Advanced Warfare is no different. Despite its futuristic setting and high-tech elements, it is not a sci-fi shooter and there are no alien enemies. According to Sledgehammer Games founder Glen Schofield, all of the technology featured in the game either already exists or is in the process of being introduced to the military. When you think about "smart" grenades, cloaking devices, and exoskeleton armor, it really makes you think how advanced our military truly is!
Get Ready for Advanced Warfare This November!
Call of Duty: Advanced Warfare is scheduled to be released November 4, 2014. The game will be available on PC, PlayStation 3, PlayStation 4, XBOX 360, and XBOX One.