Omni Military Loans Blog:
College Basketball Events at Military Bases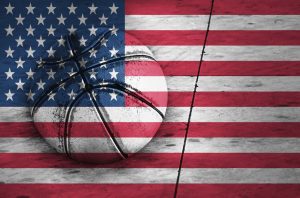 The Division 1 college basketball championship tournament runs from March 14 through April 3 and everyone is getting into the excitement. From game viewings and battle of the brackets contests to local 3 on 3 games, there are happenings all around the world in celebration of the Big Dance. Come off the bench and get into the hoops action with these events taking place at or near military bases.  
United States
3 on 3 basketball tournament
March 25, 9 a.m. – 2 p.m.
Cyber Fitness Center
Participate in this 3 on 3 basketball tournament. Registration ends March 17.
Right Arm Night
March 31, 4 p.m.
Thunder Mountain Activity Center
Free
The theme for this night is college basketball. Soldiers and civilians 18 years or older can stop by for free finger foods, a pay-as-you-go-bar, prize drawings and contests.
Basketball Tournament
March 21, 6 – 10 p.m.
DeAnza Sports Center - Bldg. 219
Free
Military and civilians over the age of 14 are invited to show their skills at this basketball tournament on March 21.  Games will be played under NCAA rules and medals will be awarded.
Devers March Madness
March 26
Youth Centers - 5543 Chaffee Ave
Watch the games, create your own bracket and enjoy free snacks and drinks.
Free game viewings
March 14 – April 3
Tropics Recreation Center – 140 Foote Street, Bldg. 589
Cheer on your favorite teams while watching the games at the Tropics Recreation Center.
Water Basketball
NAS Pensacola Indoor Pool
Every Thursday in March at 7 p.m.
The college basketball action has spilled off the court and into the pool. Stop by the NAS Pensacola Indoor Pool every Thursday in March for Water Basketball pickup games with chances to win prizes!
Game viewing and free bowling
March 29, 11 a.m. – 1 p.m.
March 31, 5 – 10 p.m.
Stars & Strikes Bowling Center – 4260 Steve's Way, Bldg. D328
Watch the college basketball excitement while bowling. Wear your team pride and your second game of bowling is free.
Japan 
March Basketball Madness
March 18
Ranger Gym, Ranger St., Bldg. 3076
Bring your "A" game to this b-ball event featuring a 3-point contest, skills challenge, and basketball game.
South Korea
March Basketball Challenge
March 15, 5 – 7 p.m.
Pick your winners every Wednesday for a chance to win weekly giveaways, including a grand prize of a 42" flat screen TV.