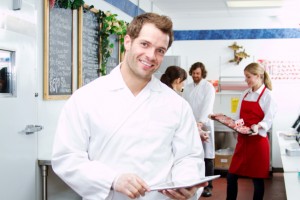 Dog Tag Bakery
Dog Tag Bakery in Washington D.C. may seem like a typical bakery, but it is actually part of a work-study program with Georgetown University that gives returning veterans with disabilities and their spouses an opportunity to learn valuable job skills.
The program and the bakery were founded by the non-profit group Dog Tag Inc. as a way to educate veterans and help them become good candidates for civilian employment or become entrepreneurs. Participants attend a six-month program in Business Administration and entrepreneurship at Georgetown University's School of Continuing Studies while receiving on-the-job training at the bakery. Dog Tag Inc. pays for the participants' tuition in the program which gives them experience in all aspects of running a small business from sales to bookkeeping to online management.
The bakery offers a variety of baked goods, salads, soups, sandwiches, coffees and teas, and snacks at its Georgetown storefront, and has a catering and online business as well.  All proceeds from the bakery are invested back into the business and the veterans' training program.
Dog Tag Bakery is one of a growing number of food service businesses and social enterprises that are offering on-the job restaurant and culinary arts training to America's veterans.
Other Restaurants That Train Veterans
Milwaukee, WI
With a motto of "Feed Your Hunger, Fuel The Mission," the Troop Café in Milwaukee provides food service and hospitality training to veterans while serving affordable, high-quality, and healthy breakfasts and lunches to the public. It is a non-profit social enterprise of the Center of Veterans Issue, Ltd. and serves as a community café, as well as a vocational and internship program.  Almost 100% of the program's graduates have found and retained jobs in the community.
Colorado Springs, CO
Medicaid-eligible veterans and others have the opportunity to receive free training in the culinary arts at the AspenPointe Cafés located in Colorado Springs. The cafés are part of the non-profit organization AspenPointe Enterprises, a social enterprise that combines social mission with business strategies to provide training and employment.
Participants in the culinary arts training program work in the cafés' kitchens and train alongside chefs, learning all aspects of food services. Once a student graduates training, the program provides employment assistance. All proceeds are invested back into the business to continue their training program.
Merrillville, IN
With menu items like "Masters Sergeant Breakfast" and "Mess Hall Special," patrons can quickly see that the Veterans Café and Grill is not your average food establishment. The café is owned by veteran Brian Cody who has a culinary arts degree and worked in food service in the military.  After being injured, the former Marine recuperated at Veterans Life Changing Services, a transition house for veterans, and began catering meals. He decided to open Veterans Café and Grill as a way to help other veterans find work and learn entrepreneurial skills.  Most of the employees are veterans who receive job training in food service that can help them reintegrate into mainstream society.
Bessie Hitchcock, one of the co-founders of Veterans Café and Grill and Director of Operations at Veterans Life Changing Services said that the idea for the restaurant was a way to help heroes "with a hand up not a hand out." The restaurant has received an outpouring of support from veterans and the entire Merrillville community.  Portions of restaurant proceeds will be used to assist homeless veterans at Veterans Life Changing Services, which receives no government funding.
Veterans are leaders and team players, and have many skills that can translate to the civilian workforce.  These food service, culinary arts, and hospitality job training programs are a stepping stone that helps eager-to-learn veterans reintegrate into civilian society, gain employment, and succeed in business.