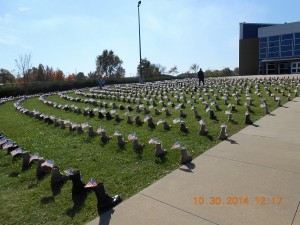 The Survivor Outreach Services (SOS) staff and volunteers at Fort Campbell created a poignant military boots memorial on display during Military Survivor Appreciation Week, which is traditionally held the last week of October.
Boots of Honor
Nearly 7,000 military boots were meticulously arranged on the lawn of the 101st Airborne Division headquarters.  Military members around the world, survivors' families, as well as boot manufacturers, donated boots for the memorial, many of the boots were decorated and included notes from family members and supporting messages from the public .
Morale, Welfare and Recreation Engineer Thomas Kirkham designed the display and said in The Leaf-Chronicle, "I thought of Arlington Memorial Cemetery in D.C. and about how all the graves line up just perfect and it came to me. This is the way it should be. This is the way the soldiers should be honored."
The memorial was visited by thousands of people during its installation and was a moving tribute to the memory and sacrifices of the heroic soldiers who gave their lives to serve America. The boots were then moved to line the route of the Hero and Remembrance Run, Walk or Roll, this year's Fort Campbell Run for the Fallen, a commemorative 5K and 1 mile walk/run which took place on November 1. The boots are now being stored at SOS until next year's event.
Suzy Yates, SOS program manager said in the Fort Campbell Courier, "This is just one way for us to show that we will always remember them. Their legacy lives on."