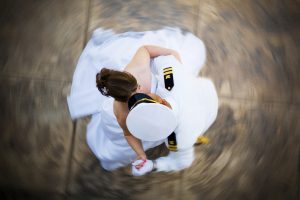 One of the most important elements of your wedding is the photography.  After all, once the toasts are made and you are off on your honeymoon, what remains are the photos of your momentous celebration. Photos that will be enjoyed forever and passed down through the generations.
Some brides and grooms try to save money by relying on friends or family to take photos…and end up disappointed. When it comes to photography, you often get what you pay for.  So if having professional wedding photographs is a priority for you, be prepared to pay for an experienced wedding photographer.
The pros have the right cameras, back up equipment, and usually an assistant. They know how to work with difficult light…and difficult people. They know how to take both group and candid photos. They know what moments to expect and how to capture those moments on camera.  Professional photographers are consistently good—which is essential since this is one day in your life and if you miss something there's no rewind.
8 Tips for Saving Money on Wedding Photography
Wedding photography can be expensive, but in this fourth installment of our wedding blog series, we've put together some tips that can help you cut down your costs:
1.Compare prices
Once you have established a wedding photography budget, meet with several photographers to compare prices and portfolios.  Do your research to make sure you hire a photographer you like and who is going to deliver quality work at a price you can afford.
2. Ask for a military discount
Always inquire about a military discount. Even if it is unadvertised, many professional photographers are happy to offer special savings to servicemembers.  Here are a few photographers throughout the U.S. that mention military wedding photography discounts on their websites:
Gas City, IN
20% off all session fees and 10% off all prints
Austin, TX
10% discount
Maple Grove, MN
Military discounts on all photography services. They also offer some free homecoming photography sessions and free newborn military baby portrait sessions to wives of soldiers who are deployed and away from home for the birth.
Based in Southern California but will travel around the world
50% discount on all photography service for active duty, 10% discount on products
Tucson, AZ
20% off every wedding photography service as well as many products
Morehead City, NC
10% discount to active duty personnel for any photography service
San Diego, CA
10% discount on wedding photography for active duty and military
3. Ask about other discounts
Depending on the time, day and month of your wedding, you may qualify for other discounts.  Sometimes photographers will have lower rates for weekday or mid-day weddings or weddings that are taking place in off-season months like January and February.
4.Get more 
Try to get more for your money. Some photographers may offer you a "brag book" photo album, buy-one-get-one prints, engagement pictures, or another type of freebie. It doesn't hurt to ask and negotiate.
5. Book in advance
Book your photographer as far ahead of your wedding as possible so that you can lock in your price.
6. Cut back carefully
Consider your wedding needs and preferences and look for relatively painless ways to reduce costs.  If your itinerary allows, choose the 7-hour package instead of the 9-hour package.  Select a package that has fewer proofs or a smaller album size.  Or purchase a canvas cover instead of a more expensive leather one.
7. Look for a local photographer
Use a photographer who lives near your wedding location to avoid paying extra travel costs.
8. Supplement your professional pictures 
If you'd like to save money by hiring your photographer for only your ceremony or part of your reception, look for ways to supplement your professional pictures. Consider putting disposable cameras on each of the reception tables. Encourage your guests to take pictures with the cameras, as well as their phones. You'll get pictures of all the big moments, as well as plenty of fun, candid shots of spontaneous things you may have missed.
When it comes to wedding photography, it can be tempting to give into all the "bells & whistles." Be wary of upsell attempts and try not to give into the pressure to go over your spending limit.  With the tips above you can preserve the beautiful memories of your special day while saving money and starting your marriage off on the right financial foot.