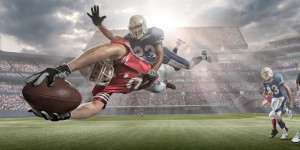 Celebrate Super Bowl 50 at MWR Events
On February 7th in Levi's® Stadium in Santa Clara, California, the NFL will host Super Bowl 50. To brand this golden anniversary, the league decided to ditch the Roman numbers. They were originally used because the game is played in a different year than the regular season. For example, Super Bowl I was played on January 15, 1967, following the 1966 regular season. This change is a good thing. Can you imagine being the losing team in game "L"?
Some Fun Super Bowl Facts
There are 72 footballs used in the game.
It's the second highest day of food consumption after Thanksgiving.
The National Chicken Council predicts that 1.25 billion wings will be eaten.
Approximately 100 million pounds of guacamole will get consumed.
The average number of people attending a Super Bowl party is 17.
MWR Events
Do you know where you're going to watch Super Bowl 50? Why not view it with your fellow servicemen? Don't miss out on the fun. Join others from your base to view this special game.
Ft. Campbell MWR – The Zone – 11 a.m.
Come join The Zone for Super Bowl Sunday.  Great prizes, a balloon drop, and coupons will be offered.
Ft. Drum MWR– BOSS – 11:30 a.m.
The BOSS Center on Nash Boulevard will be open for the Super Bowl. Come watch the game on the big screen! Transportation and snacks will be provided. Call BOSS at (315)772-7807 for more information.
Ft. Hamilton MWR – Fort Hamilton Lounge – 5:30 p.m.
For a modest fee, refreshments, door prizes, games and an After Party with DJ Javy can be enjoyed by all.
Ft. Knox  MWR– Samuel Adams Brewhouse – 5 p.m.
Watch the big game in style on a giant 9'x12′ indoor screen. Chicken wings and beverages will be available, and at half time a Playstation 4 will be given away.
Ft. Stewart MWR – Club Stewart – 10 p.m.
Super Bowl 50 will be shown in the Grand Ballroom of Club Stewart.  A halftime raffle, drink specials, and door prizes will be offered.
Stuttgart MWR (Germany) – Patch Community Club – 8 p.m.
Join fellow servicemen at the Patch Community Club inside the large ballroom and the Backlot Bar.  They will have a DJ from 8 p.m. through midnight. Stay to watch Super Bowl 50 starting at 12:30 a.m. until the game finishes.
NFL Military Discount at the NFL Experience
If you're lucky enough to attend this year's anniversary game or you just happen to be in the Bay Area during Super Bowl week, you may want to attend the NFL Experience located at the Moscone Center in San Francisco. It celebrates the sport's history and the electrifying atmosphere of this special game. An NFL military discount is provided on tickets. Visit the website for details.
The NFL Honors and Supports Servicemembers
The NFL community provides exceptional support to U.S. servicemembers, veterans and their families. The Salute to Service Award presented by the United Services Automobile Association (USAA) was created to acknowledge their outstanding efforts. In honor of Super Bowl 50 and as a tribute to the men and women of the United States military, the NFL looks back on 50 years of Salute to Service.
Military discounts generally require proof of military service. See individual websites for details, restrictions, expiration dates, and other information. Offers and discounts can change at any time. Omni Financial does not endorse, recommend or imply affiliation with the listed companies, organizations or events