Omni Military Loans Blog:
Veteran Job Fairs and Job Listings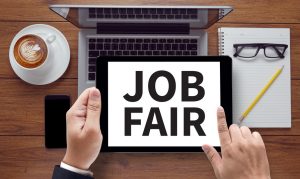 Veteran Job Fairs and Job Listings
Separating from active duty service means starting a new journey and chapter in your life. The future holds exciting opportunities, but making the transition from a military to civilian career may seem overwhelming at times. Fortunately there are many employers who value the experiences and qualities veterans bring to the workforce. To help veterans improve their employment prospects and connect with military-friendly companies, we've compiled these online resources for veteran job fairs, job listings, and other career assistance services.
American Legion Veterans Career Center
The American Legion has a career center on its website dedicated to helping veterans find employers who understand their skills and value. This website is an online job search tool kit that features career fair and job listings, a military skills translator, and other resources for job-seeking veterans.
Established by the U.S. Office of Personnel Management, this is the government-wide veterans' employment website. The site has a wealth of resources designed to help veterans, transitioning servicemembers, and their families find a career with the Federal Government.
HireVeterans.com lists job openings at military-friendly companies. Search for jobs by keyword, category, city and state. You can also post your resume so that employers can find you.
This veteran-owned and operated company offers free job search support to veterans and their spouses, and produces veteran job fairs across the country.  It partners with a network of companies that are committed to hiring veterans. Visit the website to access job listings, a schedule of nationwide veteran career fairs, and tips for resume writing, interviewing, and more.
Since 1996, TAOnline.com (Transition Assistance Online) has been helping servicemembers who are looking to transition from active duty, as well as veterans, reservists, guardsman and spouses seeking civilian employment. The site features job fair and hiring event listings, career tools, transition guidance, and job openings at military-friendly companies.
Whether you want to find employment or start your own business, Veterans.gov is a great go-to resource that can connect you to online job searches, career exploration assistance, resume building tips, training, and more.
Veterans Today Jobs is a comprehensive news and information source for veterans seeking employment. The website features career and labor market news, a job fair calendar, articles about companies that are hiring veterans, and updates on legislation that may affect ex-military personnel.
VetJobs
VetJobs is focused on helping all members of the United States military family which includes Officer and enlisted, veterans, career retired, eligible former spouse, widows, widowers, and dependents, and DOD civilians. Post your resume, search jobs, view career fair listings, and access an extensive Veterans Reference Library filled with articles to help you be successful in your job search.
For additional job search tips, read How to Use LinkedIn for Your Job Search, 5 Tips for Finding a Job After the Military, and Interview Tips for Veterans: Do's and Don'ts.  Good luck!