Grand Illumination
Grand Illumination 2018
Every year, during the holiday season, our friends at MWR Fort Lee host a family-friendly tree-lighting ceremony called the Grand Illumination. We believe strongly in the importance of showing military families and the community around them that they are valued dearly. This year, we partnered with MWR through our Prince George, VA office to sponsor the Grand Illumination event. We're so happy you joined us! We had a great time caroling and listening to the amazingly talented Fort Lee Army Band. Between enjoying delicious cookies, hot chocolate and posing for pictures with Santa, the Fort Lee community also decorated one of the best trees we've ever seen. Thank you to everyone who came out and enjoyed a wonderful evening!
Congratulations to the winner of the Omni Raffle this year, the Lee family pictured above! They won an enormous 5 foot tall LED Snowman just in time to decorate. We sincerely hope you enjoy your prize. We're glad we were able to meet you and share the joy of the holiday season. We hope to see you again next year at the Grand Illumination event 2019!


By Mele Mathieson – Posted on November 16, 2018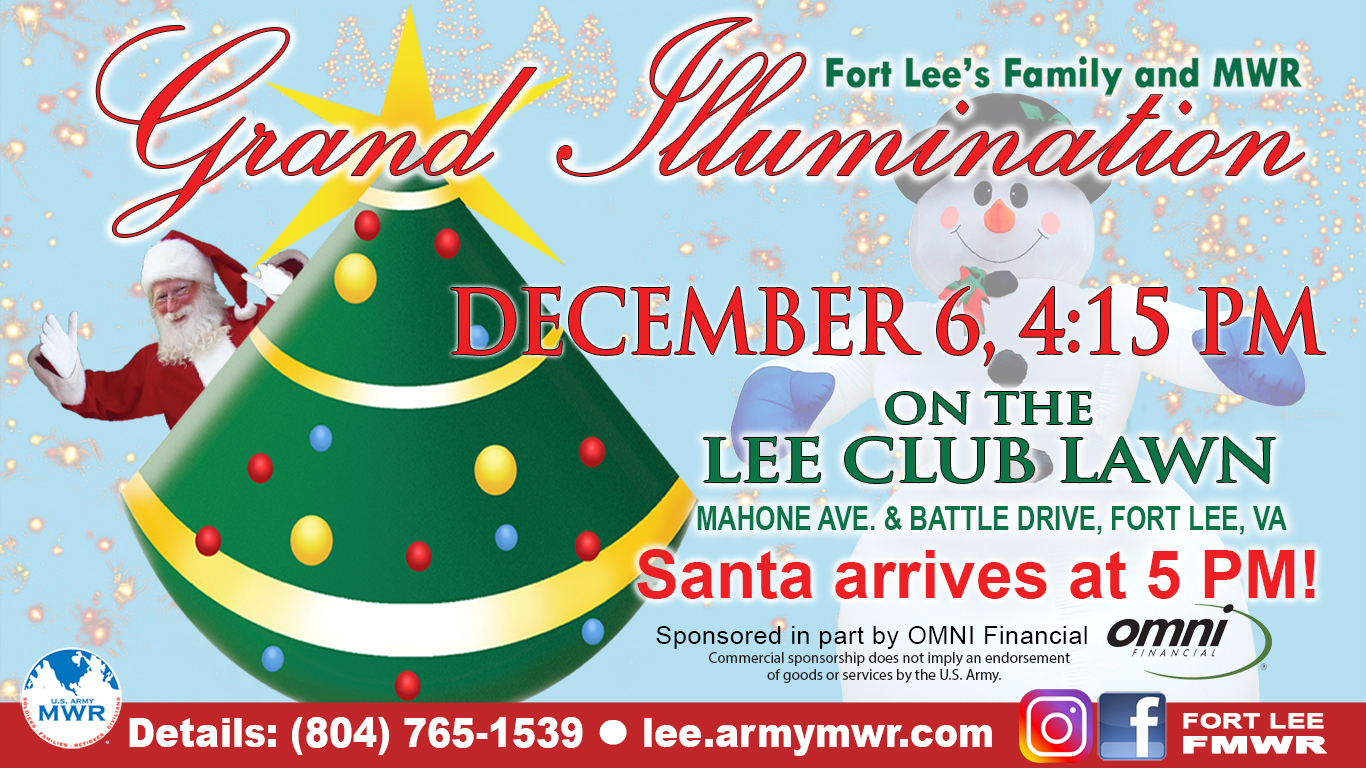 Start off the holidays with your friendly Omni Financial team at Fort Lee's Grand Illumination event on December 6th, 2018. Fort Lee's MWR annual tree lighting ceremony will be joined with cookies, carolers, and a performance by the Fort Lee Army Band. Along with the entertainment, there will be festive crafts for the kids, balloon twisting, plenty of fun winter games, and free photos with Santa. And don't forget to take a ride on the Candy Cane Express Train Ride, either. This fantastic event hosted by the MWR is an exciting way to start off the holiday season for you and your family. The event begins at 1615 and Santa is scheduled to arrive at 1700. This is an event that you don't want to miss. We cannot wait to celebrate the holidays with everyone at this annual festive event, we hope to see you there! For more information on this event, visit the MWR website here.
Lee Club Lawn
Corner of Mahone Ave & Battle Drive, Fort Lee, VA
December 6, 2018 at 1615
Appearance of Santa 1700