Easter Egg Hunt 2015
What would Easter be without an egg hunt? Therefore, on April 2nd Omni will again sponsor the Ft. Hood Flashlight Easter Egg Hunt at the expansive hunting areas of BLORA. With an estimated crowd of 800 Moms, Dads and kids from 2 to 12 attending with flashlights in-hand, this holiday event promises to again be an event to remember. What ever the opportunity, day or night, Omni is always looking to demonstrate our appreciation and support for the service members and families of Ft. Hood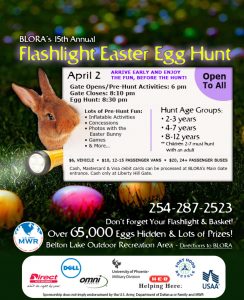 ---
Easter Egg Hunt 2013
Omni's Killeen, TX office and a proud sponsor of Blora's 13th Annual Easter Egg Hunt on Thursday, March 28th invites you to bring the entire family for the pre-hunt fun and activities followed by the kids Easter Egg Hunt. Omni is happy to sponsor this annual event and give back to the military community of Ft. Hood. Remember to bring your flash light and basket!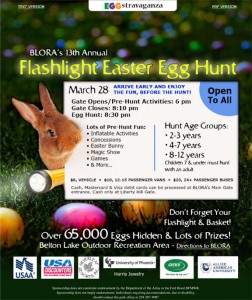 ---
Easter Egg Hunt 2012
Omni sponsored the Ft. Hood Easter Egg Hunt held at Blora Park. Omni passed out candy to over 3,000 youths and over 2,000 military personnel/parents in thanking them for their dedication and service to our country. How sweet it is!