Military Family Appreciation Night 2014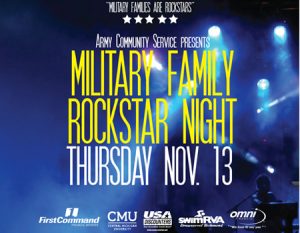 Omni's Jeff Heckert, DM of the Prince George, VA saw a wonderful opportunity to help the service members of Ft. Lee offered through the Ft. Lee MWR and jumped at it. The event that Omni will sponsor is called Family Appreciation Night and will be held on Thursday night, November 13th, 5.30pm at the Regimental Club. This event will be hosted by the Army Community Services and it's expected that some 300 families will attend this evening of activities for families and it's capped off with a delicious spaghetti dinner. We're always on the lookout for way to show omni's support for the service members of Ft. Lee.
Please RSVP to Army Community Service by 3 November: 804-734-6388.