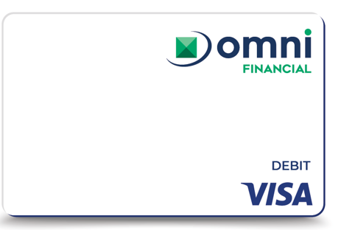 FREE OMNI PREPAID
DEBIT CARD

As a valued Omni customer, you are eligible to receive a FREE Prepaid Debit Card from Omni Financial®. This card will allow you to quickly access your money so you can start spending immediately. Omni® debit card has no purchase cost, no inactivity fee, no overdraft fees, and no minimum balance requirements.
The Omni debit card is designed to make it easy and faster for you to access your funds. When Omni approves your military loan, you can leave our branch office with the Omni Financial® debit card, with your money loaded, to begin spending immediately!. This option is available at all Omni branch offices.
Why elect to use the Omni Financial® debit card? the answer is simple:
1. There is no fee for getting the Omni® debit card and there is no credit check.
2. You can immediate access to your money and can start spending immediately.
3. You can make purchases anywhere Visa® cards are accepted; in stores, online or by phone.
4. We can remotely load money, from your next loan directly to the card, as it is reloadable and good for 5 years. No more trips to pick up the money!


Omni® debit card is provided by Cash Republic, the parent company of Omni Financial® and issued by Axiom Bank N.A. Member of FDIC, pursuant to a license from Visa U.S.A Inc.
Debit Card Fee Summary ——————– Privacy Notice ——————– Card Holder Agreement ——————– Terms of Service