Omni Financial® Careers
Join the Omni Team & Help Serve the Military
Are you ready to serve the military? Maybe you are former military or from a military family, or maybe you just want to help serve those who serve. From a General Manager to a Customer Care Specialist, a role with Omni is not only about saying "yes" to a loan candidate, but working hand-in-hand with that customer to facilitate the financing process, and make their visit to our office less stressful.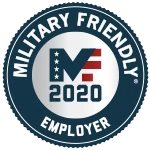 So much of Omni's success has been the direct result of a strong team that understands Omni's mission to help our military community. A career with Omni means joining our team of former military personnel and military advocates who understand the unique lifestyles and financial needs of active duty military personnel.
Why Work at Omni?
Omni is an Equal Opportunity Employer
Omni maintains a professional and respectful work environment
Omni provides customer relations and service training to all employees
Competitive salary
401(k) plan with company contribution
Paid annual leave
Paid holidays
Disability insurance
Workers compensation
Seminars and training classes for advancement
At Omni Financial® we treat service members like family! We are guided by a mission to provide a professional level of personal financial service to our customers, while conducting business in a sound and governed manner as to maintain continued growth and to provide employees with a challenging and rewarding career.
Our current open positions are listed below. Click on each position to view a complete job description and application instructions.
We are an Equal Opportunity Employer. We consider applicants for all positions without regard to race, color, creed, religion, sex, national origin, age, marital or veteran status, the presence of a disability, and any other legally protected status. It is our policy to abide by all Federal, State and local laws concerning discrimination in employment. No question in this application is intended to elicit information in violation of any such law nor will any information obtained in response to any question be used in violation of any such law.