Omni Military Loans Blog:
10 DIY Mother's Day Gift Ideas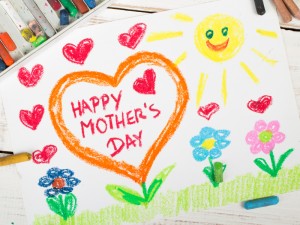 10 DIY Mother's Day Gift Ideas
Mother's Day is Sunday, May 8. Are you ready to surprise the special moms in your life with gifts they will treasure?  Making an impression this Mother's Day doesn't have to cost a lot. Chances are if you asked any mom about their most memorable Mother's Day gift she would not mention fancy jewelry or electronics.  It would probably be something like a thoughtful letter, a poignant photo, or a heartfelt, handmade gift.
The best Mother's Day gifts are made with love. This year, make your mom smile with these easy and inexpensive DIY ideas and show her how much she means to you.
Mother's Day Questionnaire– These printable, fill-in-the blank questionnaires give little ones an opportunity to share their thoughts about mom, grandma, and aunt. Let the children answer the questions on their own – you might enjoy a good laugh at their responses!
Salt Dough Handprint Frame– This craft is a new take on the classic salt dough handprint. Mix up a salt dough using flour, salt and water, make a handprint, cut out a heart, and glue in a photo. This is a precious keepsake any mom will adore.
Footprint butterfly flower pot– What's better than flowers on Mother's Day?  A handmade – or rather a "foot"made – flower pot decorated with your child's footprints.  The perfect present for the gardener!
Jar of Love– This Jar of Love offers mom a daily dose of appreciation with 365 notes of thanks, encouragement and love. It's a simple, no cost way to say a lot!
Burlap Wreath – Adults or teens can make this beautiful burlap wreath that will look stunning on any door or wall. Watch these tutorials to see how easy these are to create with just a few materials from a craft store.
Mother's Day Breakfast– Treat mom to breakfast in bed with these super cute – and super easy – ideas that express love in tasty ways. Who knew how versatile a bagel, bacon and strawberries could be?  Does she prefer pancakes?  Here are some creative presentations using pancakes and sausage.
Lemon Sugar Scrub– Pamper mom with a homemade lemon sugar scrub. This delightfully smelling scrub cleans, exfoliates and moisturizes the skin and can be made with just three ingredients.
Fingerprint Flower Bag– This tote bag is not only sweet, it is a gift that can be used and reused every day for going to the store, library, beach, and more.  It is also so easy to make using fabric paint and markers.
Stenciled Wood Bangle Bracelets – Is mom a fashionista? In less than 15 minutes you can turn unfinished wood bangle bracelets into unique pieces of jewelry.  No one will believe you made these stylish and trendy accessories
Coupons– Give mom a break with these free printable coupons good for a car wash, breakfast in bed, movie night, laundry and more.  Mom can redeem them throughout the year, extending her holiday for months.
This Mother's Day, consider honoring mom with one or more of the above ideas. These are gifts and gestures from the heart and will be remembered for years to come.
Happy Mother's Day from Omni!