Omni Military Loans Blog:
10 Easy Thanksgiving Crafts & Snacks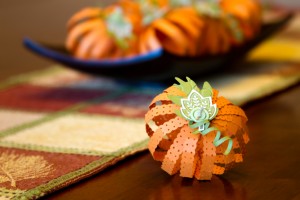 10 Easy Thanksgiving Crafts, Decorations, and Snacks
It's all about hearth and home. Thanksgiving is a time to invite family and guests to your table, appreciate your blessings, and share a meal. This year, put some special touches on your celebration with these 10 easy and inexpensive Thanksgiving crafts, decorations, and snacks.
Autumn-Inspired Mason Jars – Fall is here with all its gorgeous earthy hues. Capture the color by using a series of mason jars with seasonal flowers to add a warm touch to any room.
Colorful Leaf Printing – Leaves are golden and russet in the bright afternoon sun. Pick a few of your favorites and try this leaf printing project to create a gorgeous piece. Or, get the kids involved and use their fingertips and hands instead of leaves to build a memorable Thanksgiving keepsake. Don't forget to have them date and sign it for some great conversation in years to come.
Easy Fall Pine Cone Arrangement – Check out these 20 effortlessly beautiful DIY fall centerpieces that use seasonal items to create a welcoming table.
Cinnamon Stick Candles – Wrap cinnamon sticks around a candle with some sturdy, earthy twine to add a warming glow and festive aroma to any room. To save money, use some small trimmed sticks and fewer cinnamon sticks.
Thom the Turkey Tulle Wreath – Add some fun and humor to your home with this adorable wreath and check out these other 6 fun DIY ideas.
DIY Fall Clay Pot Scarecrow – With a few simple accessories create a terra-cotta scarecrow that will sit nicely on any shelf or make any of these other clay pot crafts.
Popcorn Candle – For some quick and easy Thanksgiving decorations, check out these six dollar suggestions using items found in a dollar store.
Silly Personalized Foot Print Turkey – Use an expressive picture of your child's face and create this adorable art piece. Your family and guests will enjoy it this year and for many years to come.
Turkey Thanksgiving Snack Bags – The kids will love these fun snack bags filled with their favorite treats. If you plan to travel, they're a great surprise that will entertain your little antsy passengers. This easy Thanksgiving snack is also perfect for school parties and play dates.
Turkey Pretzels – Here's a great way to recycle candy corn from Halloween and to make an adorable treat the kids and adults will enjoy.