Omni Military Loans Blog:
10 Photo Gifts to Send Your Service Member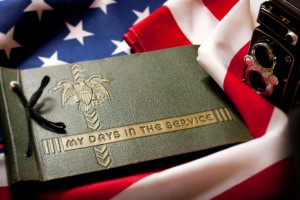 You've heard the adage – a picture is worth a thousand words.  This is especially true for military members who are deployed. For those soldiers, photos of family and friends who are waiting back home are simple reminders of how much love and support they have from afar.
If your loved one is deployed, creating a photo gift and sending it to your service member overseas is a meaningful way to stay connected. While a picture in a frame is always a beautiful gift choice, there are many other unique types of photo gifts. For inspiration, check out this list of 10 creative photo gift ideas you can make to surprise your soldier with something special and memorable.
10 Photo Gifts to Send Your Service Member
Photo Blanket – These cozy fleece blankets feature custom design templates for the Army, Air Force, Coast Guard, Marine Corps, National Guard, and Navy. Just add your photo and personalized text!
His & Her Dog Tags – Showcase your chosen picture on a set of his and her dog tags. Each dog tag has a charm; one says "Half my heart is in USA" the other says "Half my heart is deployed."
Photo Book – Honor your hero with a military-themed photo book that offers pages and pages of customization options.
Photo Calendar – A photo calendar is a practical and personal gift that features month after month of your chosen photos.
Phone or Tablet Case – A phone or tablet case with your special picture will provide protection for a mobile device and be a constant reminder of your support and love.
Photo Jigsaw Puzzle – Turn your photo into a jigsaw puzzle and give your recipient something fun to piece together during their downtime.
Photo Keychain – This double-sided keychain is a true keepsake. It has the poignant saying "Distance mans so little when someone means so much" on one side, and your photo on the other side.
Photo Playing Cards – Playing cards are always a thoughtful gift to send a soldier. Customize a deck with your family photos.
Scrapbook – Using photos, text, letters, newspaper clippings, patriotic paper designs, and embellishments, you can create a military-themed scrapbook that expresses your love and pride.
Photo Pillow – Your service member will sleep tight with a personalized pillow that features your special photo.
While it is difficult to be separated from your loved one during times of deployment, photo gifts are a wonderful reminder to your service member that you are thinking about them.