Omni Military Loans Blog:
5 Ways to Honor Veterans on Veterans Day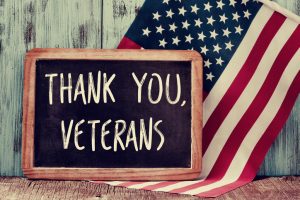 Estimated reading time: 3 minutes, 13 seconds.
Veterans Day is on November 11 and this year will be observed on Monday, November 12. If you are looking for ways to express your gratitude to those who have served the United States Armed Forces, here are five ideas.
5 Ways to Honor Veterans on Veterans Day
Attend an Event
Attend a Veterans Day parade or another local event that will be honoring veterans.  Just by being a spectator you will be showing support to the men and women who have served our nation.  Here are just a few of the thousands of Veterans Day parades taking place around the country:
Philadelphia Veterans Parade – Philadelphia, PA – November 4
Veterans Day Parade – Knoxville, TN – November 9
2018 Fayetteville Veterans Day Parade – Fayetteville, NC – November 10
7th Annual Regional Veterans Day Parade & Celebration – Fort Smith, AR – November 10
City of Orlando Veterans Day Parade – Orlando, FL – November 10
Tarrant County Veterans Day Parade – Fort Worth, TX – November 10
Veterans Parade – part of the 2018 Sandhills Veterans Festival – Southern Pines, North Carolina – November 10
The San Diego Veterans Day Parade – San Diego, CA – November 10
America's Parade – New York City, NY  – November 11
Birmingham's Veterans Day Parade – Birmingham, AL – November 11
Petaluma Veterans Day Parade & Flyover – Petaluma, CA – November 11
The American Heroes Parade, part of the annual "Houston Salutes American Heroes Veterans Day Celebration." – Houston, TX – November 11
Two Veterans Day Parades (Veterans Day Parade & the Veterans for Peace Parade) – Boston, MA – Both November 11
2018 Phoenix Veterans Day Parade – Phoenix, AZ – November 12
Veterans Day Parade – Tallahassee, FL – November 12
Veterans Day Parade – Virginia Beach – November 12
Offer a Military Discount or other Token of Appreciation
Many businesses honor veterans with military discounts that are available throughout the year. If you own or work for a business that does not, Veterans Day is the perfect time to offer veterans something special. Show your gratitude to veterans and active duty service members by giving them a free meal or gift, a money-saving discount, or other tokens of appreciation.
Make a Commitment to Hiring Vets
If you are a business owner, consider making a formal commitment to recruiting and hiring vets. Veterans have skills and experiences that benefit many types of civilian careers. At Omni Financial, we are proud to have a veteran workforce and highly encourage other companies to hire and support veterans.
Visit a VA Hospital
Contact a VA hospital in your area and see if there are any opportunities to visit the hospital on Veterans Day.  Perhaps there are special activities you can help with, such as a Veterans Day lunch, or maybe you have a talent to share, such as playing an instrument for the patients. Visit the United States Department of Veterans Affairs website to find the VA hospital nearest you.
Make a Donation
Give back to those who gave so much to our country by making a donation to one of the many organizations that support veterans.  Operation Homefront, Fisher House Foundation, Bob Woodruff Family Foundation, and Hero Dogs, are just a few.
Support Veterans Every Day
Veterans Day is more than just a day off.  It is a day set aside specifically to honor Americans who have served our country during peace or wartime. Take time this Veterans Day to thank these heroes for their dedication and service, and keep in mind that showing gratitude to veterans is not limited to one day year. There are many ways you can continue to show appreciation to them all year long.
Read 10 Interesting Facts About Veterans Day to learn more about this state and federal holiday. 
Omni Financial does not endorse, recommend or imply affiliation with the listed charities.