Omni Military Loans Blog:
Easy DIY Pre-Holiday Home Fix-Ups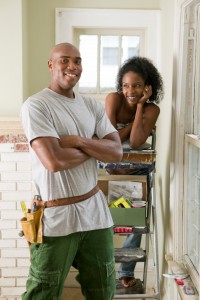 November and December may seem like a long way away, but the holidays will be here before you know it. Here are some DIY tips for getting your home ready for all your guests and celebrations.
Easy DIY Home Fix-Ups
Patch holes in drywall – Interior walls are subjected to lots of wear and tear so an occasional hole in the drywall can be expected. Repairing small holes is fairly easy. Here are some step by step instructions from This Old House.
Paint – One of the easiest ways to spruce up your home is by painting. It makes the room look clean and updated. Do you find that selecting a color is a daunting process? Check out this advice for choosing the right paint color for your room.
Replace broken tiles – Replacing cracked floor or wall tiles is not that difficult and takes just a few materials. Watch this video to see how you can replace tiles like a pro.
Check your kitchen appliances – If you are hosting guests during the holidays, chances are you'll be spending lots of time in the kitchen preparing meals and snacks. Make sure the refrigerator, dishwasher, and oven are in top condition. Here are 8 things you should keep in mind to avoid having last minute holiday mishaps.
Think safety – While every home should be equipped with safety devices like fire extinguishers and smoke detectors, you should take added precautions if you are going to have very young, elderly, or mobility-impaired guests. Look at your walkway to make sure it is well-lit and that any railings inside or outside of your home are secure. If toddlers will be visiting, considering getting temporary outlet covers and cabinet locks. Also, inspect your home for anything that could be a choking hazard and keep matches and harmful plants out of the reach of little hands.
Clean your chandeliers – Crystal chandeliers can be the beautiful focal point of your dining room but they can also be a magnet for dust and cobwebs. Give a little love to your light fixture with these fast cleaning tips.
Boost curb appeal – Make a great first impression with these easy and inexpensive ideas for enhancing the exterior of your home. See how little fixes to your door, mailbox and landscape can make a big difference in improving curb appeal.
Declutter – The holidays mean more guests, more gifts, and more clutter. Use this pre-holiday time to get organized and make extra room by decluttering what you already have in your home. Here are some tips to get you started.
Get the guest room ready- If you haven't hosted overnight guests in some time, you may want to take a few minutes to make sure you have everything you need to help your guests feel welcome and comfortable.  Good Housekeeping suggests that you ask yourself these 10 questions.
Refresh décor – Give your tired rooms a new look by changing wall art, rearranging furniture, adding new pillows and bedding, or getting new towels for the bathroom. Here are some other easy, inexpensive ideas that can update your home almost instantly.
The holidays can get crazy busy so don't wait until the last minute to start on your repairs and chores. With the right amount of preparation, you'll be relaxed and ready to tackle the holiday season head-on.