Omni Military Loans Blog:
Month of the Military Child 2017 Activities and Events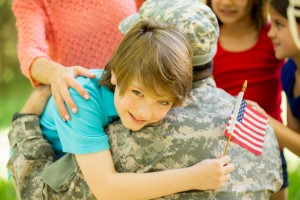 April 2017 marks the 31st anniversary of the Month of the Military Child (MOMC). Established in 1986, the MOMC honors military children and recognizes the unique challenges they face. Military children may have to deal with a deployed parent, frequent moves and other stressful situations that require personal sacrifices and strength beyond their years. The Month of the Military Child is an opportunity to show support and appreciation to these children.
Organizations and U.S. military bases throughout the country and the world are observing this month in a variety of ways. One way the organization Operation Homefront recognizes the MOMC is through its Military Child of the Year® awards. This honor is awarded annually to an outstanding military child from each branch of service. Read about the seven extraordinary recipients of the 2017 award.
In addition, there are all types of special local events for military children and their families. Below are just some of these fun, free activities.  Keep an eye out for Military Month of the Child events in your area!
Events to Celebrate the Month of the Military Child
Fort Carson
What: Free Kids' Climb
When: April 4 – 25, 3-4 p.m.
Where: Iron Horse Sports and Fitness Center
Cost: Free
Children ages 5 – 10 can climb for free every Tuesday in April from 3 – 4 p.m. Kids will learn how to climb in a fun, safe environment and take part in climbing-related instructional activities and games.
Fort Sill
What: Forever In Your Mind concert
When: April 23, 3 p.m.
Where: Fort Sill Polo Field
Cost: Free
Forever In Your Mind and Tristan McIntosh are performing a free concert on April 23. Come early to enjoy all the pre-show activities.
Fort Stewart
What: Kids Fest
When: April 8, 12 – 4 p.m.
Where: Newman Field
Cost: Free
Kids Fest is filled with carnival games, balloon artistry, a canine show, vehicle display and more. Bring the family! The first 400 children to arrive get a free wristband that is good for two hours of play at Corkan Recreation Facility.
Hawaii
What: Bowling Special
When: Every Sunday in April, 11 a.m. – 2 p.m.
Where: Naval Station Bowling Center
Cost: Free for ages 12 and younger
Kids up to age 12 can bowl free and get a free shoe rental with a paying adult.
What: Golfing with Heroes
When: April 7, check in starts at 2 p.m.
Where: Mamala Bay Golf Course
Cost: Free
Junior golfers ages 7 to 18 are invited to play golf. Players will be paired up with heroes – any parent or military member who loves to play golf.
What: Teen Center Family Night
When: April 18, 5:30 – 7:30.
Where: JBPHH Teen Center
Cost: Free
Light snacks will be served at this event which is open to all teens and their families.
Hawaii PMRF
What: Purple Up! For Military Kids
When: Starts Friday, April 14
Where: PMRF Youth Center
Cost: Free for eligible PMRF children
Kids grades K – 6 are encouraged to show their support for other military youth by wearing purple, the color that symbolizes all branches of the military.
Minnesota
The Minnesota National Guard website lists several Month of the Military Child events taking place in Minnesota.
Wear purple on April 21 for Purple Up Day and post on social media using the hashtag #PurpleUpMN.
Mall of America is hosting an event on April 21, from 2 – 10 p.m. there will be a Build a Bear event, face painting, a Rock and Ride event, free Nickelodeon Universe wristbands, and appearances by Nickelodeon characters and sports mascots.
Art, poetry and photography