Omni Military Loans Blog:
Remember National Medal of Honor Day on March 25th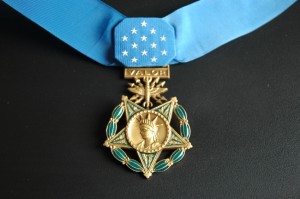 Everyone is familiar with military holidays like Veterans Day and Memorial Day.  But did you know there is a special day in March that also honors America's heroes? It's the National Medal of Honor Day and it takes place every year on March 25th.  Designated by the United States Congress in 1990, the day is dedicated to Medal of Honor recipients.
What is the Medal of Honor?
According to the Congressional Medal of Honor Society, the Medal of Honor is "the highest award for valor in action against an enemy force which can be bestowed upon an individual serving in the Armed Services of the United States."
The Medal of Honor was established during the Civil War. Iowa Senator James W. Grimes introduced a bill on December 9, 1861 that would "promote the efficiency of the Navy" by producing and distributing "medals of honor" to be given to distinguished petty officers, seamen, landsmen and Marines during the Civil War. The bill was signed into law by President Abraham Lincoln on December 21st, 1861.  Two months later, Massachusetts Senator Henry Wilson introduced a similar bill to distribute medals to distinguished privates in the U.S. Army.  This was also signed by President Lincoln. Today there are versions of the medal for the Army, Navy, and Air Force. Members of the Marine Corps and Coast Guard can receive the Navy versions of the medal.
Since the award's inception, 3,493 Medals of Honor have been awarded. The National Medal of Honor Day pays tribute to all those recipients. The March 25th date was chosen because on that day in 1863 the first Medals of Honor were presented. The medals were given to the six surviving members of Andrews' Raiders, the group of Union soldiers that went behind Confederate lines to steal a locomotive in an attempt to destroy the Western and Atlantic Railroad which served as a Confederate troop transport and supply line.
The National Medal of Honor Day Ceremony
For the past six years, surviving Medal of Honor holders have been invited to Arlington National Cemetery in Washington, DC for a wreath laying ceremony. They also present the Citizen Service Before Self Honors awards which honor three civilians for their acts of courage and going above and beyond in a crisis situation.
For more information about the National Medal of Honor, including a list of recipients and photos of the medals, visit the Congressional Medal of Honor Society website.