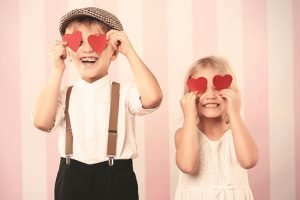 It's February and that means Valentine's Day is almost here!  That mid-winter holiday dedicated to love and the people in our lives who are so special to us, near and far. If you are looking for sweet ways to celebrate the day, here are a few ideas:
Check your MWR
Finding some Valentine's Day fun might be as easy as visiting your base's MWR office. Many MWR offices arrange a variety of Valentine's Day services and activities for individuals, couples and families, such as the following:
Visit the websites for event details.
Get crafty
Kids love to get into the Valentine's Day spirit! Keep your little cupids busy by making some Valentine's Day crafts and treats together.
Handprint and poem – Unite a touching poem with your child's handprint and you have a meaningful Valentine's Day keepsake for any loved one near or far. Ideal for including in a Valentine's Day military care package.
Healthy heart-shaped snacks – Hearts abound with these fun and festive treats created with yummy veggies and fruit.
Valentine Tic Tac Toe Snack Craft – This is candy, a graham cracker and game all in one! Super cute and simple to make – no baking required!
Throw a Valentine's Day party
Turn your home into Valentine's Day party central. Whether you invite families, singles or keep it couples only, a Valentine's Day shindig is a great way to get everyone together. Here are some ideas for hosting a fabulous fete on a budget:
Shop for supplies at your local commissary and at stores that offer military discounts – and don't forget those coupons!
Instead of a full meal, serve a variety of finger foods
Ask each guest to bring his or her favorite Valentine's Day dessert or drink
Use any holiday leftovers, such as red or white ribbons, as decorations
Keep it simple – A candy in a jar guessing game, DIY construction paper hearts, dollar store trinkets and similar items can transform any room into a fun, festive space. You don't have to spend a lot!
Valentine's Day is a wonderful day to show your loved ones that they are in your heart – but of course, it is just one day. You can express your devotion, affection and gratitude to the special people in your life any day of the year.
Happy Valentine's Day!
Omni Financial does not endorse, recommend or imply affiliation with the listed companies or organizations.