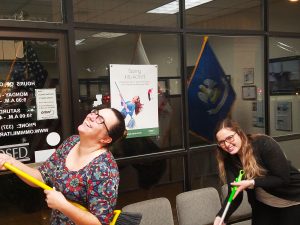 It's April and the weather is getting warmer. Now is the time to throw open those windows, let the fresh air in and embark on the annual chore that is spring cleaning.  While getting your home all spic and span is not necessarily enjoyable, creating a tidier, healthier and more organized living environment is definitely worth the effort. Not only will your home be neat, but professionals say that a clean home also contributes to lower stress levels and allergy symptoms, and increased safety.
Here's a list of some suggested tasks for your spring cleaning to-do list. The list may seem a bit daunting at first, but there's no need to tackle everything all at once. Come up with a chore schedule that works for you, such as focusing on one room a weekend, or cleaning the floors one day and closets the next, etc.
Ready, set, clean…
Throughout every room in your home
Vacuum and shampoo rugs
Clean upholstered furniture
Check smoke detectors – Here are some important tips on how to do it correctly
Wipe walls, baseboards and windowsills
Clean curtains and blinds
Dust light fixtures, lampshades, and ceiling fans
Clean windows, screens and window sills
Look for items you don't use or need and donate them
Dust crown molding
Wipe switchplate covers
Dust artwork and knick knacks
Clean picture frames and mirrors
Vacuum and clean floors
Tip: When dusting, always start from the top of the room (the light fixtures, ceilings, etc.)  and work your way down. That way, you will be able to avoid dust falling on areas that have been previously cleaned.
Kitchen
Clean refrigerator and freezer
Clean out and organize pantry
Throw out bad or expired food
Wipe cabinets inside and out
Organize cupboards
Wipe countertop appliances
Clean microwave – Use this tip from Good Housekeeping to make this task a breeze
Hose out and disinfect trash cans
Den/living room
Wash or professionally clean pillows and throw blankets
Organize your media – CDs, DVDs, etc.
Clean TV screens
Wipe remote controls
Vacuum furniture including crevices and under the cushions
Dining room
Wash table linens
Clean chair cushions or slipcovers
Wipe down table and chairs
Polish furniture and silver
Bedrooms
Wash bed sheets, blankets, comforters, and quilts
Flip mattresses, sprinkle with baking soda and vacuum
Machine wash pillows (check to make sure they are machine-washable first!)
Wash curtains
Polish furniture
Vacuum floors and rugs
Declutter closets and dresser drawers to look for items to donate or give away
Always make the bed!
Basement/Garage/Attic
Organize tools, toys and other items
Donate, sell, or throw away old party decorations, broken toys and tools, sports equipment and supplies you don't need
Store items in labeled, transparent storage bins and stack the bins to free up floor space
Safely dispose of old gas, batteries, brake and transmission fluid, paint, electronics, fertilizer and other hazardous waste.  Follow your town's guidelines for proper disposal.
Bathroom
Throw out expired medications. Follow proper guidelines. Here are some instructions from the FDA.
Replace worn out towels
Clean the fans and vents
Clean shower curtain and liner and replace if necessary
Disinfect in and around sink, toilet, shower and tub
Polish the faucets and towel racks
Remove soap scum from glass doors, tub and tiles
Clean mirror
Clean crevices of shower door (an old toothbrush can be helpful to get into the small areas)
Get rid of grout stains. Check out these tips on Bobvila.com.
Want to save money on your cleaning supplies? Think DIY!  Read this Omni blog for ways you can make effective cleaning supplies using ingredients you probably already have in your home.  
The information provided in this blog post is for informational purposes only. Omni Financial does not endorse, recommend or imply affiliation with the listed companies or organizations.