Omni Military Loans Blog:
10 Spring Recipe, Craft & Decorating Ideas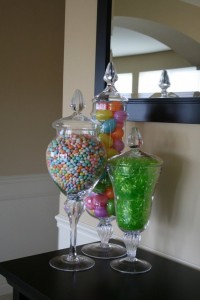 Give spring a warm welcome!   These recipes, crafts, and decorating ideas are easy and inexpensive ways to celebrate Easter, Passover and the season.  Whether you want to freshen up your home décor, keep your children busy, or impress your dinner guests, these ideas will inspire you to spring into action!
10 Spring Themed Ideas
Spring Apothecary Jars – Apothecary jars are an easy way to add style to your home. Fill up jars or vases you already have in your home with colored grass, plastic Easter eggs, or candy from the dollar store.  Faux flowers, moss, and fruit also make pretty fillers.  Place the jars on a mantel or shelf, or use them as a table centerpiece.
Fruit Pizza – Colorful fruit on a sugar cookie base makes a delicious and eye-catching Easter dessert. Everyone will want a slice of this sweet treat!
April Showers Umbrella Craft – April showers may bring May flowers, but with this easy craft they will also bring lots of smiles! Young children will love making an umbrella and "rain" using a paper plate, construction paper, and yarn.  A wonderful rainy day activity!
Salted Toffee Matzos – This mouthwatering dessert adds some sweet and salty decadence to your Passover Seder.
DIY Home Fragrances – Fill your home with the smells of springtime and make these home fragrances with a few simple and natural ingredients.
Flower Veggie Platter – Make your veggie platter bloom with this creative – and simple – idea.
Easter Egg Wreath – Hot glue Easter eggs on a Styrofoam wreath to create an "eggs-traordinary" decoration for any door. This is a smart way to re-use the eggs after an Easter egg hunt.
Matzo House – Get the whole family involved in creating a matzo house. This is a fun and edible craft that makes a great centerpiece and an even better dessert!
DIY Daffodils – Nothing says spring like daffodils. With just a few materials like popsicle sticks, cupcake holders, and yellow construction paper, you and your children can brighten your home with a garden of pretty daffodils– no watering required.
Spring Word Searches, Coloring Pages, and Worksheets – Keep your kids busy for hours with these free printable word search puzzles, coloring pages, and worksheets filled with spring-related words, pictures, and activities.