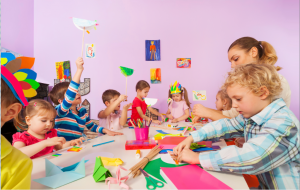 Military parents, like most working parents, have a need for high-quality child care that fits within their budgets.  But military families also have to deal with deployments, untraditional work schedules, and frequent moves. These aspects of military life can make finding flexible and affordable child care especially difficult.
Prior to 1989, military child care was widely criticized for being inadequate. Many of the child care facilities were unlicensed, did not meet safety codes, the teachers were underpaid, there were long waiting lists, and it was expensive. The Department of Defense (DoD) recognized this problem and as a result, passed the Military Child Care Act of 1989. This act was the impetus to making safe, high-quality child care for military families more accessible and affordable.  Since that time several subsidized programs have been established to support military families and help reduce their out-of-pocket costs of child care.
If you are a military family in need of on-base or off-base child care, inquire about the following programs and see if they might be an option for you:
Subsidized Military Child Care Assistance Programs
Department of Defense Child Care Centers
The Department of Defense runs a network of full day, part day and hourly child care programs for children ranging in age from 4 weeks through 12 years old. According to Military.com, this is actually the largest employer-sponsored child care system in the country, and it is one of the most highly regarded systems as well. The network includes more than 800 child development centers and school age programs at more than 300 sites at military installations.  Among those eligible for child care are active duty military, DoD civilian employees, reserves on active duty assignment, combat-related wounded warriors and surviving spouses.  Fees are sliding scale, vary by service and program, and are based on Total Family Income.
Child Care Aware of America is a non-profit organization that provides eligible Air Force, Navy, Marine Corps and Army families with child care fee assistance at commercial child care programs throughout the United States. To qualify, you must not have access to an on-base child care provider. Subsidy amounts are based on Total Family Income.  Visit the website for more information, to find participating providers in your area, and to apply.
Operation: Military Child Care (OMCC)
Military parents who are deployed have unique child care needs. OMCC is a subsidy program that can help pay for child care during this time.  Single parent families and families with a working spouse or a spouse who is enrolled in school are eligible for this program that will reduce fees for a local child care provider.  The amount of the fee reduction is based on Total Family Income, available funding, geographic location, and military service policies.  Learn more about OMCC eligibility and how to apply.