Omni Military Loans Blog:
Free and Discounted Tax Preparation Resources for Military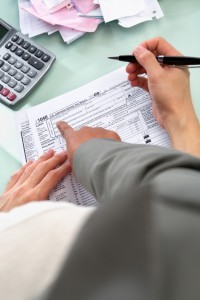 It's tax filing time and if you're struggling to get started, don't worry!  The following are free and/or discounted tax preparation resources available to military personnel.  Whether you want to take advantage of e-filing or have questions about special military tax deductions, check out these resources to see if they can help you.
Helpful Tax Preparation Resources for Military
Jackson Hewitt Tax Service – If you are a Veterans Advantage member you can save $30 to $50 on your next tax return.
Military Installation Tax Centers – Military service members and their families are eligible to receive free tax preparation assistance through the  Volunteer Income Tax Assistance (VITA) program. This IRS-sponsored program is available at most large military installations. Specially trained volunteers will help you file and they understand military tax-related issues such as combat zone tax benefits, tax deadline extensions, and non-taxable military income.
Military OneSource – This U.S. Department of Defense program provides active duty service members, National Guard, Coast Guard Reserve, and select family members with access to free online tax filing. Service members also have free access to Military OneSource tax consultants who are familiar with the tax issues that affect the military.
TaxSlayer.com – With TaxSlayer.com's Military Tax Edition, active duty military can prepare and e-file both their Federal and State return for free.  You'll also get live phone support, a step-by-step deduction guide, and more.
TurboTax Military Edition – The Turbo Tax Military Edition tax filing software is free for  E1-E5, and discounted for E6+ & Officers. This special edition will help search for all military related expenses, plus you'll receive guidance about military and civilian income, including combat pay, BAS, and BAH.
For more information on Tax Season please check out our 5 Smart ways to spend your Tax Refund Article