Omni Military Loans Blog:
Top 5 Greatest Rock Concerts Ever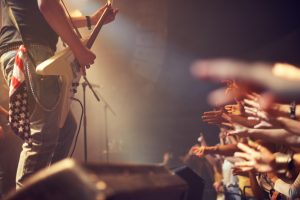 For a lot of bands and musicians, their claims to fame weren't always due to producing flawless records. For some, it was their live performances that have really helped to set them apart from the rest and to build their legions of loyal fans. This can be confirmed by any fervent fan of The Grateful Dead, The Who, The Red Hot Chili Peppers, or Guns and Roses (the original version, back in their heyday). As great as those bands might sound on vinyl, their power and presence can't be fully appreciated until you see them live.
Since Muddy Waters first strummed his guitar, concerts have been the best way for an artist to connect with their fans. And over the years and for a variety of different reasons, there have been some truly memorable performances. Here, we take a look at five of the greatest, craziest, and most epic rock concerts (in no particular order) to have ever been performed and the reasons why they hold such a tender spot in our hearts and memories.
Top 5 Rock Concerts
The Doors at the Dinner Key Auditorium
On March 1, 1969, The Doors played at the Dinner Key Auditorium in Miami, Florida. During this time in singer Jim Morrison's life, he was an active user of alcohol and drugs and as was often with his performances, they had a memorable impact on this particular concert. In the middle of the show, Morrison started screaming at the audience and taunting the police who were lined up in front of the stage. The strange display was then capped off by an act that would forever cement Jim Morrison's reputation as one of the craziest frontmen ever to grace the stage – he exposed himself to his adoring fans, who were by this time, whipped up into a frenzy. The police wound up rushing the stage and hauled Morrison away. He was arrested for his lewd stage act four days later. Unfortunately, Jim Morrison would die of a drug overdose while the case was still being appealed.
Jimi Hendrix at the Monterey Pop Festival
On June 18, 1967, as California's three-day Monterey Pop Festival was winding down, a little-known band called The Jimi Hendrix Experience took the stage. The band just released its debut album, "Are You Experienced?" so there wasn't much fanfare surrounding the band yet, but for many music historians, by the end of their set, Jimi Hendrix would have officially ushered in the Summer of Love's new wave of rock music. The song that made this show something special was a cover of the Troggs' "Wild Thing." During the performance, Hendrix introduced concertgoers to his acrobatic guitar work, leaving many breathless. Then, later during the band's final song, Hendrix did something utterly remarkable –he set his guitar on fire and then smashed it. Overnight, Jimi Hendrix would become a star!
U2 on a Liquor Store's Rooftop in LA  
On March 27, 1987, the Irish mega-band, U2, set up their equipment on top of a liquor store in Los Angeles and for 20 minutes, the quartet performed for free for a very quickly growing number of fans. The show only lasted for 20 minutes because police had to intervene due to the fans blocking traffic on the streets below. Interestingly enough, the entire concert was conducted for the sole purpose of filming a video for the song "Where the Streets Have No Name," and both the video and the brief concert were made all the more memorable by the police rushing the performers and unplugging their equipment.
The Beatles at Shea Stadium in New York
As insane as Beatles fans were whenever the band played live, the Beatles weren't especially known for their live performances. In fact, the band really didn't like performing live because they often said, they couldn't hear themselves play over all of the raucous screaming of their fans. But, on August 15, 1965, the Fab Four would turn in one of their most memorable performances when they played Shea Stadium in New York. The entire concert was filmed and broadcast around the globe and it shattered records at the time for both attendance and revenue generation. The concert also proved to be a major turning point for the band. After the show, the Beatles ventured into the second stage of their career, which involved the band creating some of their most innovative recordings. Another tidbit about that concert at Shea Stadium – just a year after that concert, the band retired from performing live altogether.
Woodstock
Over the course of three days, from August 15 – 18, 1969, the Woodstock Music & Art Fair (or simply, Woodstock) would become firmly cemented as one of rock history's most memorable, and often imitated, concerts. This free "hippie-fest" attracted more than 400,000 music lovers from all over the country. Many concertgoers would take cross country treks to their final destination, a dairy farm pasture in White Lake, New York. Performers at the concert included The Who, Crosby, Stills & Nash, Santana, Jimi Hendrix, Arlo Guthrie, Joan Baez, and Janis Joplin, just to name a few. There are just too many memorable moments to list from this incredible, once-in-a-lifetime concert but of course, one of the most iconic was Jimi Hendrix playing "The Star-Spangled Banner" wearing his trademark red head scarf and blue-beaded fringed white leather jacket.
Honorable Mentions
With so many mind-blowing concerts over the years, it was extremely difficult choosing just five to include on this list. And, no doubt many people will have other concerts that they believe should be included. That said, here are a few other noteworthy concerts that were in serious contention for this list:
Do you have a concert that stands out in your mind as the best ever?