Omni Military Loans Blog:
Valentine's Day Care Packages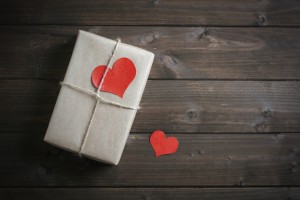 A Valentine's Day Care Package for Your Deployed Soldier
This Valentine's Day get really personal. Touch the heart of your deployed servicemember by crafting your own care package. Make your gift truly special by including items that are custom-made for your loved one.  Nothing says "I Love You!" to someone in the military more than a cute, thoughtful card handmade by you or your children or a unique gift that shows just how much they're missed.
DIY Romantic Box – For a romantic Valentine's Day package that's perfect for a far-away sweetie, decorate a box with romantic pictures and other personal endearments.
Heartfelt Child's Card – Put a smile on your soldier's face by making an adorable "I Love You This Much" card. Trace the hands of your little ones for the outline and then add your own touches. Or, string the hands together to mail a long distance hug. Your children will love helping and your soldier will love receiving these simple, yet heartfelt cards.
Homemade Spouse's Card – Show your loved one how much you care by crafting your own unique, card. Browse this collection to get some great ideas before you start.
Happy Jar – Every morning your soldier can start his/her day with a personal message from you. Using paper in three different colors, create 365 notes that begin with one of three different phrases. On pink paper, write "I love how…," on purple paper write "Remember when…," and on white paper, write "We're doing this…" Fill in with your special messages and put the notes in a mason jar. This Happy Jar will lift your soldier's spirits and give him/her the encouragement they need to get through another day. Check out these other mason jar gift ideas for your loved one.
52 Things I Like About You – Want to warm your soldier right down to his/her boots? Write 52 reasons why you like them, put them each on a card, and tie the deck together with a red ribbon.
A Day in the Life – Give the gift of sharing. Let your overseas soldier experience an ordinary day with you and your family. Snap photos capturing every new situation and assemble them in a slideshow for your loved one to enjoy. Even the most trivial things will bring joy and laughter. Don't filter the frustrations to make it even more fun.
A Heartfelt DVD – Record a series of two minute clips that go into detail about a specific thing you really love about your partner. During bleak moments, viewing these stories will spark a smile.