Loans for Retired Military Personnel
As a long-time active duty military member in the United States Army, Air Force, Navy, Coast Guard or Marine Corps, you have devoted your life to the service of your country. You were there for all of us when we needed you; now let us repay the favor with a personal loan from Omni Financial – specifically, loans for retired military members.

For over 50 years, Omni Financial has provided active duty soldiers, airmen, Marines, Coast Guardsmen sailors and their military family members with military loans. For active duty service members, the hectic nature of military life can add up. From medical bills for health emergencies to car repairs to property damage that your homeowners insurance won't cover, unexpected expenses happen to everyone in the military, and they're never convenient. But these issues don't end when your time in the service has come to an end.
The personal loans for retired military from Omni Financial can help you pay for these unanticipated costs when your current situation won't allow for it. But even if you know certain expenses are right around the corner, Omni Financial has you covered. Whether it's to pay for a well deserved vacation with your family, to refurbish your house, paying off credit card debt or to make the holiday season extra special for the military family you love more than life itself, Omni Financial's team of specialists will supply you with a customized personal loan that can be used however and wherever you see fit. That's what makes personal loans personal – how the proceeds of the loan are used is entirely up to you.
What is a military loan and how does it work?
For the most part, a military loan works just like a personal loan does. As a borrower, you apply for a certain dollar amount that you need. If approved, the funds are then extended to you – typically as a lump sum – then you repay the loan over time with interest. What that interest rate is depends on several factors, such as your current credit score, market dynamics, your income and other considerations determined during the application process.
What makes military loans unique is they're exclusively designed for – you guessed it – military members. These include those in the Army, Navy, Air Force, Marines, Coast Guard or the Space Force. You don't need to be on active duty to take advantage of Omni's loan program offerings. As the saying goes, once a Marine, always a Marine. That's a statement that applies to the other service branches as well.
Not only do you not need to be on active duty to be eligible for a personal loan, you don't need a sterling credit score either. This is another way that a military loan is special. Whether you have so-so credit, bad credit or no credit at all, you're eligible to apply. Your time in the service may have been challenging, but our application process is anything but. You'll just need a few basic pieces of information so we can assess your finances and determine the appropriate loan limit.
Here are a few other ways that Omni Financial's personal loans for retired military work – you'll see how they can work for you:
You decide how to apply
Whether you prefer applying online, in our offices, calling Omni or Omni calling you, loan application simplicity is central to what we do at Omni Financial and why we're a go-to financial institution for current and former active duty service members. Many of our customers return for additional loans.
Broad range of funds available
From as little as $500 to as much as $10,000 – or somewhere in between – loans for retired military members come in many different amounts through Omni Financial. The maximum loan amount borrowers are eligible for is determined by your ability to repay the loan, which we'll be able to assess once you submit an application. Omni Financial's goal is to lend you the amount that you need or want, but if you're not approved for that dollar figure, we'll explain why and suggest an alternative amount, as we explore all possibilities in processing your loan application. We'll also help you set up a monthly payment plan that aligns with your capabilities.
Pay back the loan over time
Unlike a payday loans, which in addition to carrying a high interest rate must also be paid back shortly after you receive the funds, the personal loan you receive can be paid back in installments. As a retired military member, you may be on a fixed budget. We get that, which is why our loan repayment terms are wide ranging. Whether you'd like to pay over six or 36 months, we'll set up a repayment term plan that works for everyone.
Receive your money quickly
It is a myth that a retired service member's life slows down when no longer on active duty; you maybe able to attest to that. In fact, life as a retired service member may be busier than ever. At Omni, we recognize your busy lifestyle and the timeliness of your needs. Your can access your funds with Omni Financial within hourst! From direct deposit to in-office pick up, Omni Financial can put money in your hands relatively quickly. Plus, once the funds are in your savings or checking account (assuming you pick direct deposit), you won't have to wait. Your funds are available for your needs immediately.
Alternatively, if you come to any one of our 18 locations (conveniently located near many military bases) you'll receive an Omni Financial debit card. Use it like you would any other debit card or to get cash from one of the thousands of ATM machines around the country that accept Omni Financial debit cards.
Bad credit score? Apply away!
Your credit score doesn't define your financial situation. We understand that, which is why bad credit is not a deal-breaker. Since we examine each loan application individually and in conjunction with other factors, a bad credit score is no reason to not apply. That's what makes Omni Financial not your average lender. We go out of our way to get you the money you need. When others say "no" to no credit or bad credit, we love to say "yes" – and we do it whenever we can. If you're not approved for a given loan amount, we'll see if we can come up with a workaround. In other words, not being approved doesn't necessarily mean you're not eligible.
Satisfaction Guarantee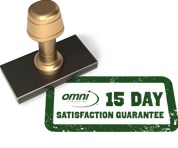 We take great pride in the personal loan solutions we provide. That's why if for any reason whatsoever you're not fully satisfied with your loan, we want to know about it. Each of our loans are backed by our 100% satisfaction guarantee. This means that if within 15 days* of receiving the loan there's an issue, we will cancel your loan – no questions asked. You won't be charged any fines or fees, either. Simply return the proceeds and you're all set.
*30 days in NC for E4 and below.
Our military loans do more than pay for your needs
A personal loan from Omni Financial may help you cover expected or unexpected expenses, but they're about much more than addressing costs that come up; they can open up opportunities. Are you looking to apply for a VA loan but your credit score is too low to gain approval? used correctly, a military loan can help you build up your credit profile. Much of your credit score is determined by how consistent you are about making your payments. By following the monthly payment plan and making your payments by the due date, you can build the credit score you need to apply for a VA loan and become a homeowner.
Are you looking to improve your financial literacy? All Omni Financial military loan customers are eligible for MoneySKILL® courses. Through our partnership with the AFSA Education Foundation, MoneySKILL® offers practical money management guidance and strategies that can help you become more financially savvy.
Do you have other retired military who are looking for personal loan solutions? Through the Omni Friendship Rewards card program, anyone you refer to us will enable you to receive a $25 Omni Gift Card. Assuming they're approved, you'll receive $25 for each friend, military family member or military colleague who signs up.
From the unlimited number of ways you can use your personal loan to the speed with which you'll receive the funds, loans for retired military are great when they're from Omni Financial. Let us lend you a helping hand contact us today or apply now.
We also lend to Department of Defense Personnel.