Chet Buchanan Toy Drive 2019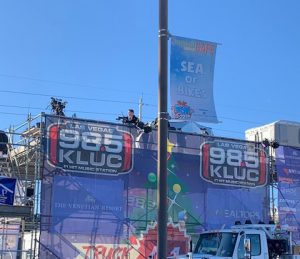 Each year, during the holiday season, our Las Vegas office chooses a local charity to support. This year the Chet Buchanan Toy Drive was chosen. The Chet Buchanan Toy Drive is longstanding tradition in the Las Vegas community. For over 21 years this toy drive has gathered bikes, gift cards, dolls and all sorts of donated toys to give back to children within the community.
Running from December 5th to December 16th, 2019, Chet Buchanan, a radio show host for the local 98.5 KLUC station, spends the entire 11 days living on special scaffolding, specifically built for this charity event, in order to raise awareness and encourage goodwill donations for the charity. The scaffolding is located at 6226 West Sahara in Las Vegas. Local businesses, private citizens, and even military service members come out to see Chet on the scaffolding and drop off gifts or donations for those in need. Our Las Vegas office recognizes and appreciates Chet's determination and resilience in his support of the children of the Las Vegas community, hence its choosing to support this toy drive effort.



This year's Chet Buchanan Toy Drive was a resounding success, with record breaking donations and community support for the event from organization like Omni, the Las Vegas Metropolitan Police Department and even a local motorcycle club! In total, 41 Coca Cola Trucks packed to the brim with donated toys, 9,540 bicycles, and over $600,000 in monetary donations and gift cards were collected, all for the benefit of the children of the Las Vegas community.
Thank you to 98.5 KLUC and Chet Buchanan for allowing us the opportunity to give back to the children Las Vegas community and thank you everyone who supported this worthy cause. Happy Holidays!

Friendship Rewards Program
Refer a friend and get a $25 Omni Gift Card