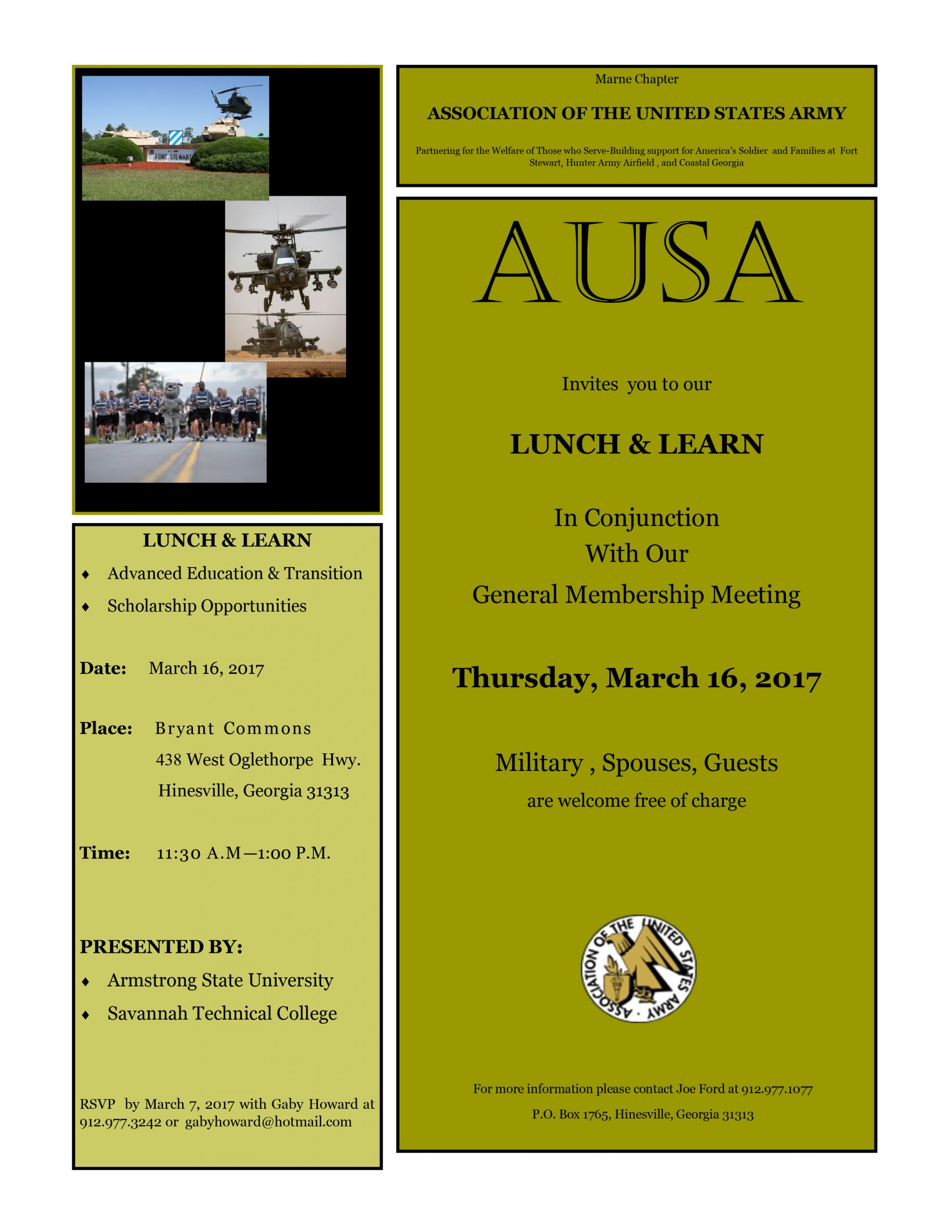 The association of the United States Army presents Lunch&Learn 2017. This is an event catered for service members wishing to expand more on their education. Member of prestigious universities will be attending to inform our young service members on on topics such as:
Advanced Education and Transition
Scholarship Opportunities
Both Armstrong State University and Savannah Technical college will be the presenters of this event.
Armstrong State University
Armstrong State University is a dynamic and diverse public university l situated on the Atlantic coast in beautiful Savannah, Georgia. With more than 100 highly regarded degrees and programs. Armstrong State University proudly welcomes all active duty military, veterans, military spouses and families. They offer many benefits to thank you for your service to our nation, from fee waivers to special scholarship opportunities. Military Times ranked Armstrong 4th in the nation among four-year schools on the 2017 "Best for Vets: Colleges" list. Armstrong is also an institutional member of the Academic Institutions for Military Students Network and offers a convenient Military Resource Center on campus to support military-affiliated students.
Savannah Technical College
Savannah Technical College serves Coastal Georgia with quality, market-driven technical education with campus locations in Chatham, Effingham and Liberty Counties. Serving more than 4,500 credit students each semester, Savannah Tech offers nearly 150 different instructional programs in Aviation Technology, Business and Technology, Public Service, Industrial Technology, and Health Sciences in addition to Adult Education classes, industry-specific training and continuing education. Their faculty and staff are proud to assist veterans, military members, dependents and spouses in furthering their education. Veterans and survivors or dependents of veterans may be eligible for educational benefits through the Veteran Administration (VA) and active duty service members and their spouses may be eligible for tuition assistance.
Omni was honored to be able to support and sponsor an event such as this that helps enrich the lives of our service members through education, helping them to achieve their goals.

Friendship Rewards Program
Refer a friend and get a $25 Omni Gift Card