Junction City, KS
Omni GM Emilio Montanez of the Junction City, KS office shakes the hand of SFC Nicholas Wiley while presenting a supply of turkey certificates to help members of his Unit that need a little help for Thanksgiving. Omni's annual "Holiday Giving" program seems to be a Win-Win for Omni and for the soldiers of Ft. Riley. Omni will also be distributing ham certificates prior to Christmas as our way of again saying "Thank You" to the soldiers of Ft. Riley.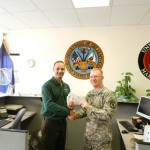 Hinesville, GA
As part of the annual Omni "Holiday Giving" program, Ray Curtis, GM of Omni's Hinesville, GA office is seen wishing 1SG Campos Happy Holidays after presenting him with ham certificates for several needy Soldiers in his unit. Merry Christmas!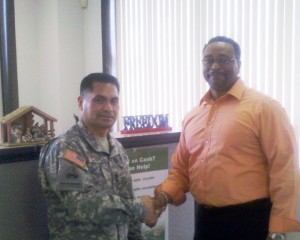 Oceanside, CA
Omni's GM was proud to distribute turkey certificates in advance of Thanksgiving and ham certificates in advance of Christmas. This is a great way to give back to our Soldiers during what can be a tough time of year for many.

Friendship Rewards Program
Refer a friend and get a $25 Omni Gift Card