SCFE Warrior Run 2016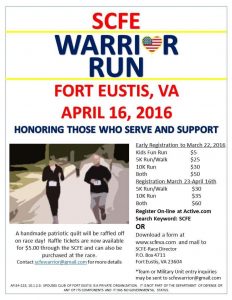 The Spouses Club of Fort Eustis are hosting a Warrior Run on April 16th. The run is comprised of two segments, the 5K and the 10K. Anyone can participate in the challenge. Even kids are welcomed to joining in on the fun with a Kids Fun Run that tests their endurance on the track.
he race will take you past the historic Matthew Jones House, along the beautiful James River with a view of the Ghost Fleet near Fort Crawford and then past a site of an early American brick factory located on Mulberry Island.
There will also be a raffle being held for a patriotic quilt. As a sponsor Omni will also be holding a raffle of our own.
See you at the finish line!

Friendship Rewards Program
Refer a friend and get a $25 Omni Gift Card