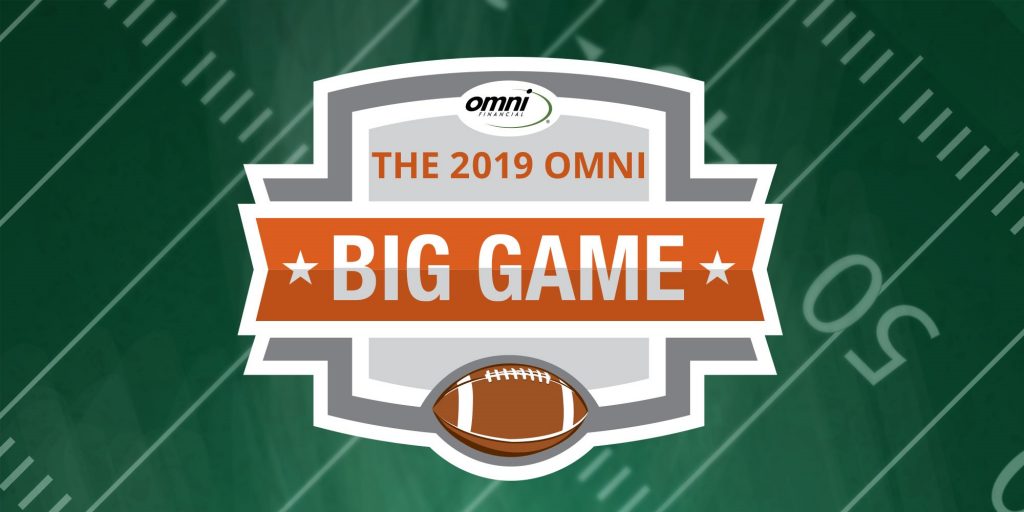 Omni is once again supporting Big Game viewing parties around the nation so you can experience the Big Game outside of the field. Get ready for the ultimate kick-off!
---
Photos from the Big Game events, we are so happy that you made it! Congratulations to all the raffle winners!
Clarksville, TN/Fort Campbell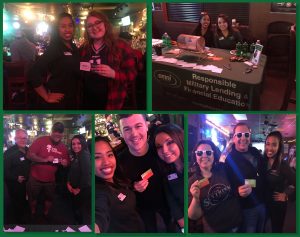 There was plenty of food to share at O'Connors Irish Pub and Grill in Clarksville during the big game! We are glad that you were able to make it.
O'Connors Irish Pub and Grill
1198 Tylertown Road
Clarksville, TN 37040
931-524-2540
Columbus, GA/Fort Benning
With big screen HDTV's, pool tables, dart boards, video games, a large patio, and fantastic food, the Fort Benning Brew Pub was the place to be this big game. The party was a big hit!
Fort Benning Brew Pub
7611 Sightseeing Road
Fort Benning, GA 31905
706-545-8426
El Paso, TX/Fort Bliss
Three Pints Pub had plenty of TVs to view the game on, pool tables, and food for this big game party. We had a blast.
Three Pints Pub
10710 Gateway N Blvd, Suite A1
El Paso, TX 79924
915-822-2016
Evans Mills/Fort Drum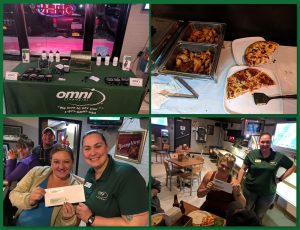 The big game at the Whistle Stop Tavern was a lot of fun. We enjoyed all the food and fun, we are glad we saw you there!
Whistle Stop Tavern
33926 NYS RT 3
Carthage, NY 13619
315-493-0304
Fayetteville, NC/Fort Bragg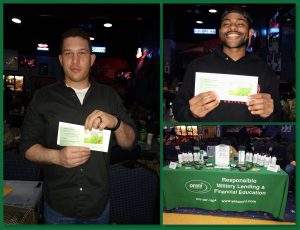 Watching the biggest game of the season at Sports USA on Fort Bragg was a blast. With eighteen 52″ TVs and eleven big screen TVs, we were up close and personal with the action. There was tons of food, games, and prizes that made this the most memorable game yet.
Sports USA
3-2102 Longstreet Road
Fort Bragg, NC 28310
910-907-0739
Hinesville, GA/Fort Stewart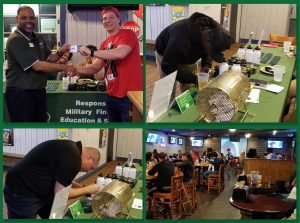 Gata's Sports Bar & Grill was a great place to be this big game event. There was a lot of food and enjoyment with this game!
Gata's Sports Bar & Grill
811 Elma G Miles Pkwy
Hinesville, GA 31313
912-368-9464
Jacksonville, NC/Camp Lejeune


The wings are hot and the drinks are cold. Watching the big game on wall to wall flat screens at Buffalo Wild Wings in Jacksonville was a great way to spend our Sunday.
Buffalo Wild Wings
4175 Western Blvd,
Jacksonville, NC 28546
910-378-7215
Junction City, KS/Fort Riley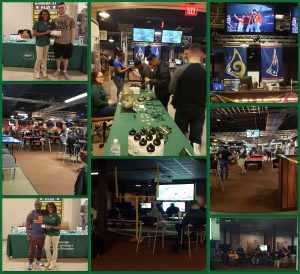 In a place designed to help you relax and have a good time, the Warrior Zone features pool and poker tables, gaming systems, a full service snack bar, and a big game viewing party! We are excited to be a part of the event and are so glad you were able to make it.
Warrior Zone
7867 Normandy Dr
Fort Riley, KS 66442
785-240-6618
Killeen, TX/Fort Hood



We didn't miss a minute of the action at Samuel Adam's Brewhouse. This big game event featured an array of food, big screen TVs, and prizes! We are glad you made it!
Samuel Adam's Brewhouse
Bldg. 5782
24th Street, next to Club Hood
Lakewood, WA/Fort Lewis



There was plenty of room to watch the big game at Galloping Gertie's Bar & Grill. With food specials, big screen TVs, and many prizes, we hope you as good of a time as we did at the big game event!
Galloping Gertie's Bar & Grill
15417 Union Ave SW
Lakewood, WA 98498
253-584-4848
Lawton, OK/Fort Sill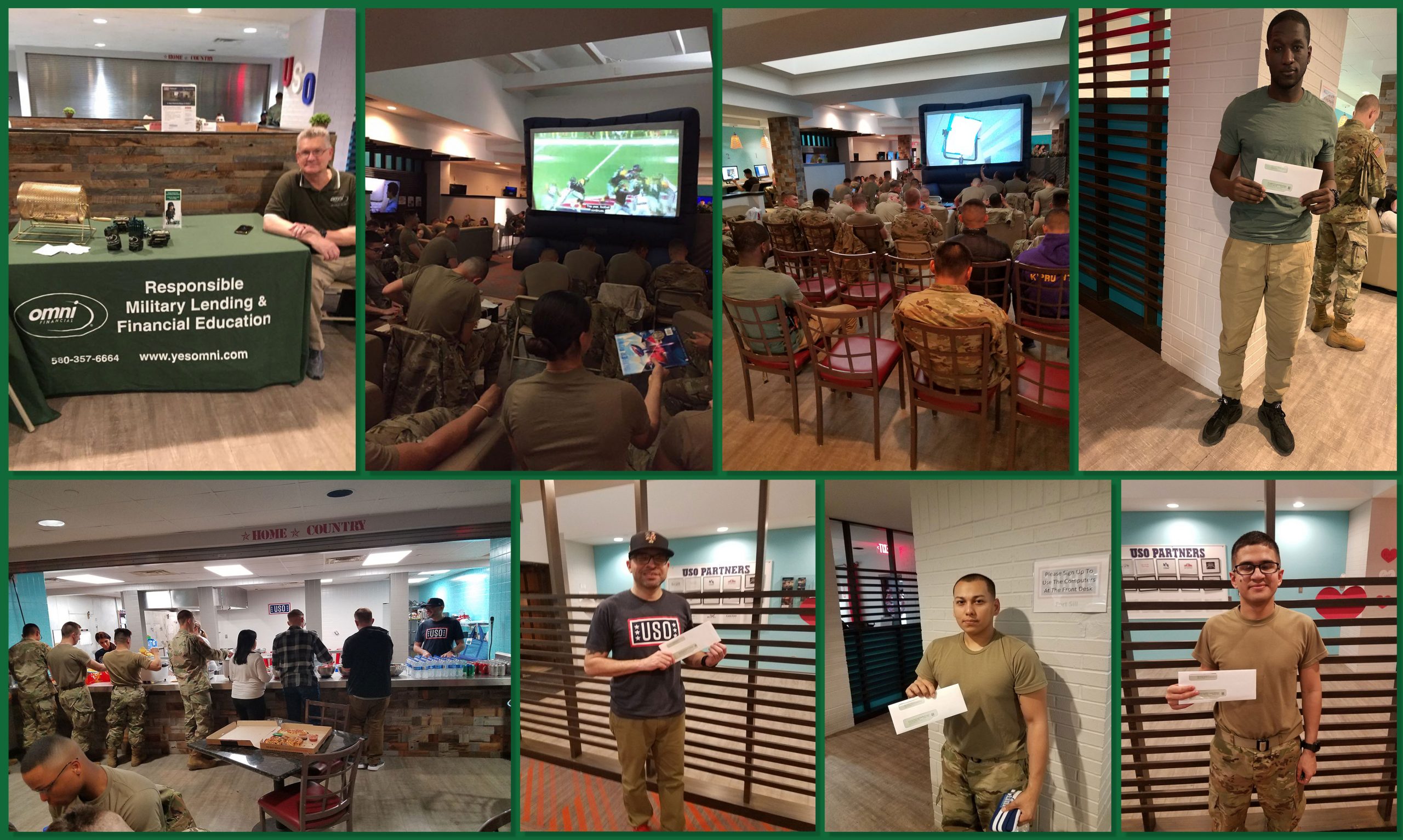 A short distance from Fort Sill, the USO Oklahoma hosted a big game party with plenty of food, several big screen TV's, pool, games, and computers! We are glad we got to watch the game here and we hope you are too!
USO Oklahoma
3265 Crane Ave
Fort Sill, OK 73503
580-442-2812
Leesville, LA/Fort Polk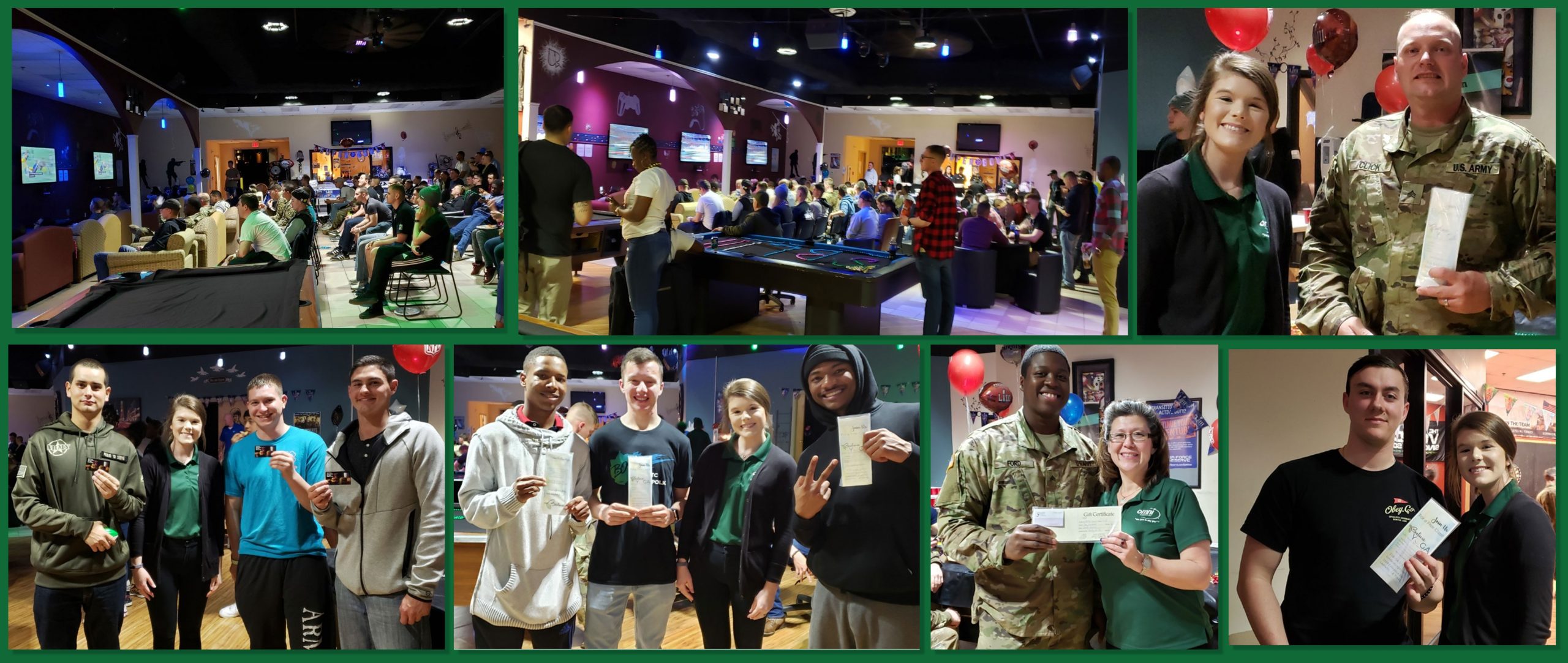 Located within walking distance of Fort Polk, Strike Zone & Spare Time Lounge is where we watched the big game. With an HDMI projector screen, 14 HDMI mounted TV's, two pool tables, a dart board, recliners, and group seating, it was a great experience watching the big game here with all of you!
Strike Zone & Spare Time Lounge
2087 9th St., Bldg. 1457
Fort Polk, LA 71459
337-531-6273
Newport News, VA/Fort Eustis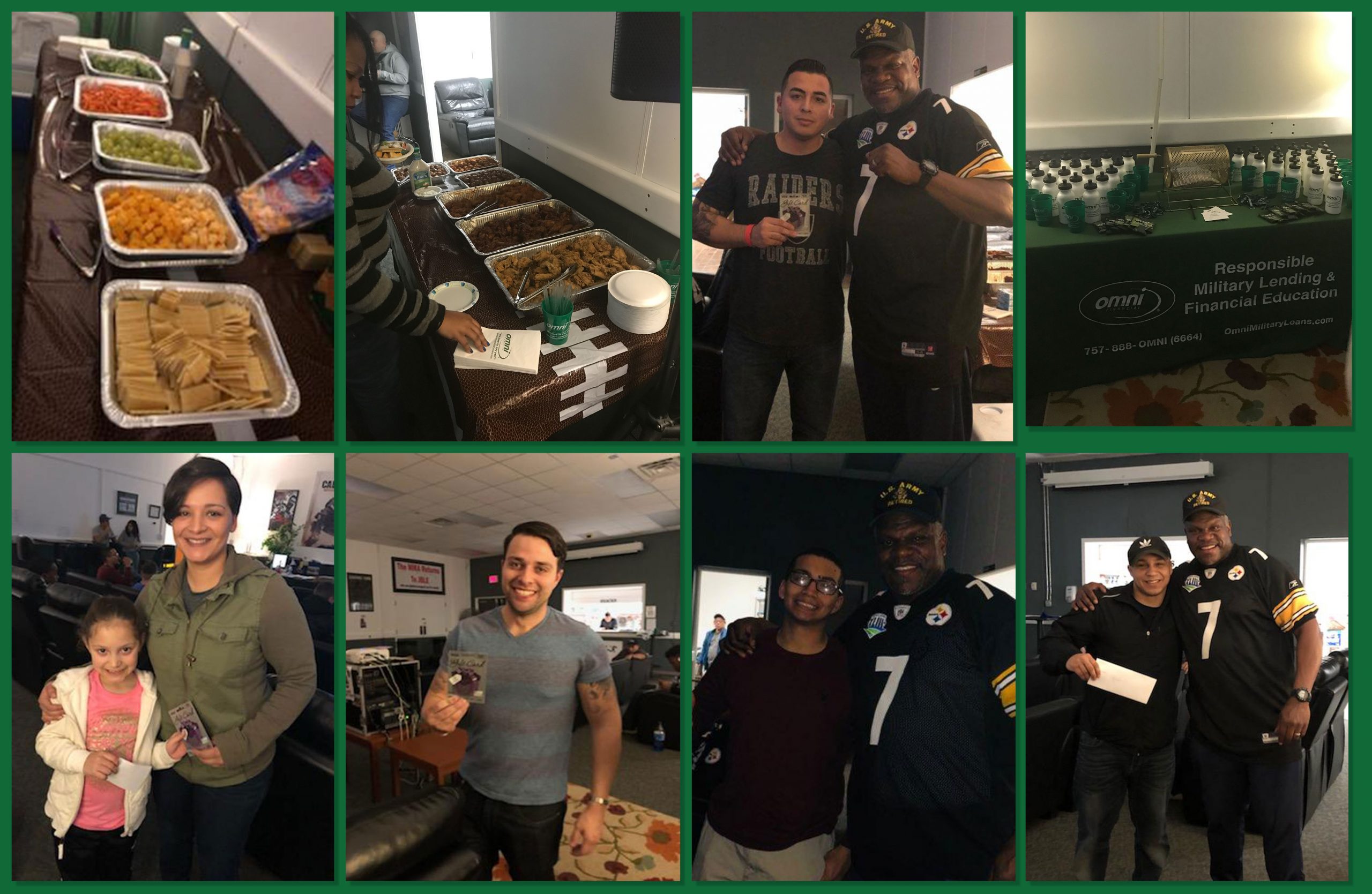 A special way we enjoyed the big game was a pre-big game video game tournament at the Family and MWR Recreation Center! At this action-packed event, there was food, prizes, and plenty of gaming before relaxing and watching the big game. Thank you to everyone who came out to join us!
Family and MWR Recreation Center
671 Lee Blvd
Newport News, VA 23604
757-878-3694
Norfolk, VA/Norfolk Naval Shipyard
We enjoyed the game together at the Columbus Club. There was a terrific spread of food and beverages as well as prizes! We are so glad you joined us.
Columbus Club
5201 Kennebeck Ave
Norfolk, VA 23513
757-735-2086
Oceanside, CA/Camp Pendleton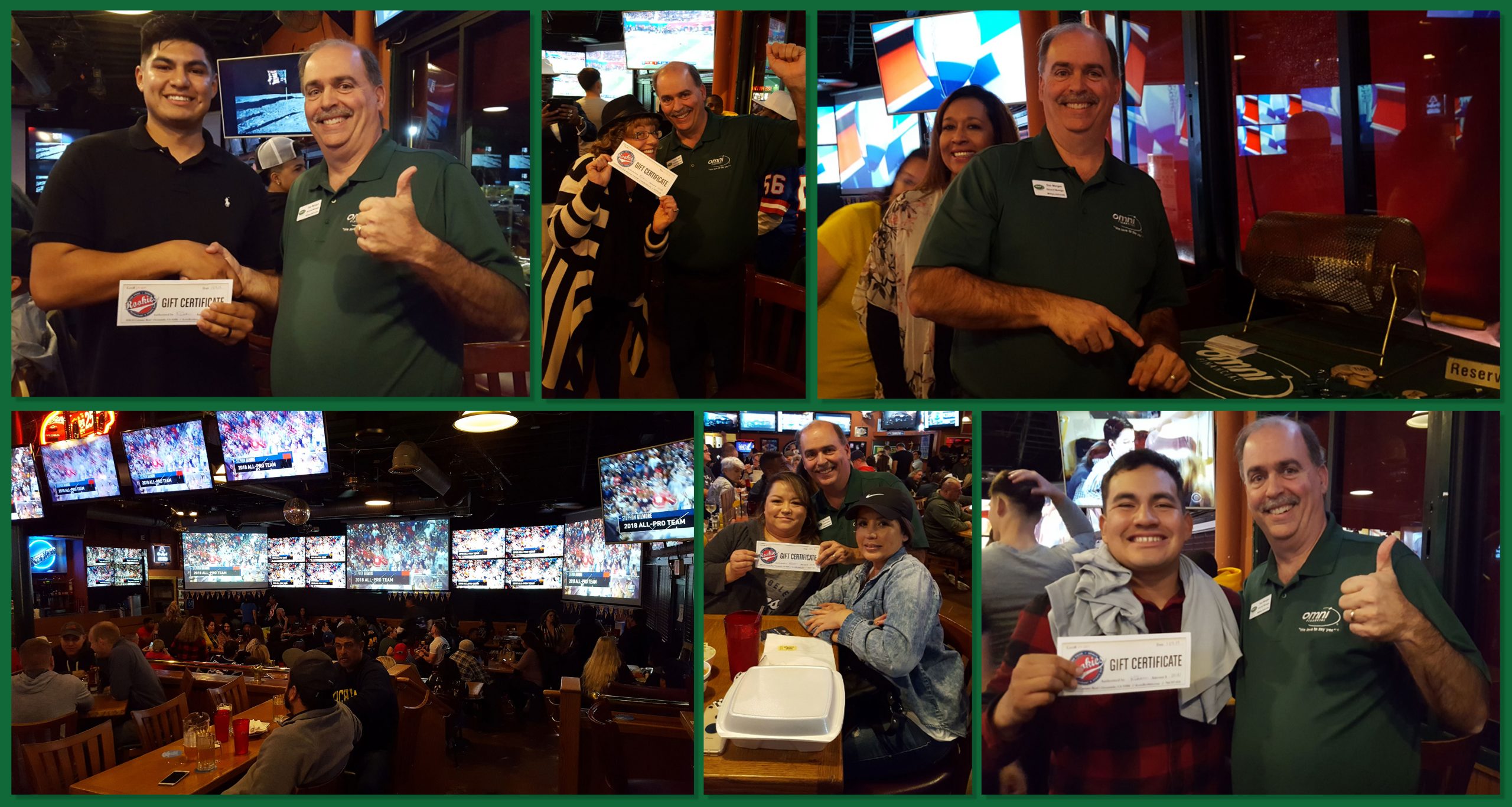 Rookies Sports Bar is where we were for the big game this year. Watching the big game with a raffle, food, and drinks was a great experience and we are glad you could make it.
Rookies Sports Bar
2216 S El Camino Real, #104
Oceanside, CA 92054
760-757-1123
Prince George, VA/Fort Lee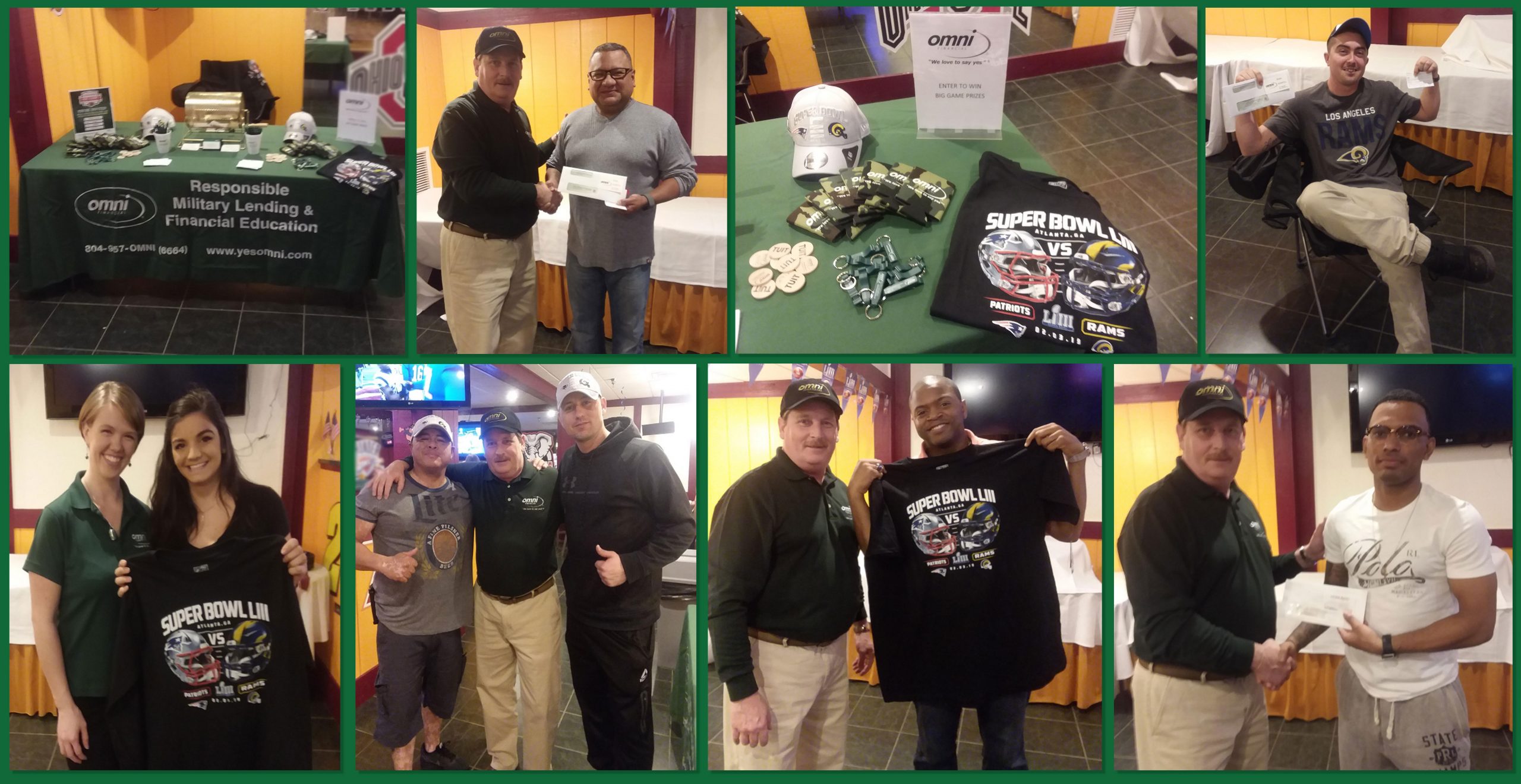 It was a great experience partnering with Fort Lee's MWR this year to bring you a great big game viewing party! There was plenty of food, drinks, and prizes, we are glad you came to join us in this event!
Overtime Sports Bar
Bldg. 9009, Battle Dr
Fort Lee, 23801
804-734-7541

See where we were last year, here: 2018, 2017, 2016

Military discounts generally require proof of military service. See individual websites for details, restrictions, expiration dates, and other information. Offers and discounts can change at any time. Omni Financial does not endorse, recommend or imply affiliation with the listed companies, organizations or events.

Friendship Rewards Program
Refer a friend and get a $25 Omni Gift Card