Omni Military Loans Blog:
Top 5 Basketball Video Games of All-Time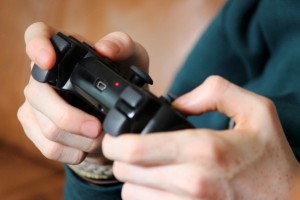 Get Geared Up for March Madness By Revisiting Your Favorite Basketball Games
March Madness is here. So, we thought it would be appropriate to take a look back at some of the all-time best basketball video games ever made. From innovative but outlandish hoops action to state-of-the-art life-like gameplay, the top five basketball video games represent practically every genre in this popular pastime.
Ready for the tip-off? Get geared up for March Madness by revisiting these five must-play basketball video games.
NBA Street Volume 1– After several years' worth of video games boasting realistic NBA action, NBA Street Volume 1 brought the game back to its roots – the streets! There are no stadiums filled with spectators. There are no referees calling fouls. This is pure three-on-three street basketball at its finest, and at its most fun. NBA Street Volume 1 brought fast-paced action, caricature-like characters, and street-wise commentary. It was the first of its kind and it was a game designed to be enjoyed over and over again. The game was originally released in 2001 for the PlayStation 2 console followed by a release on the Nintendo GameCube in 2002. The game developed into a successful series with a string of follow-ups, but the original remains the best of the lot.
NBA Live 95– NBA Live 95 was a landmark achievement in sports gaming, especially among basketball video games. This was the first release to feature spectator crowd sounds with realistic responses to what was happening on the court. This added feature made the game much more realistic than anything that came before it and it was the closest one could get to an arena-like atmosphere in the comfort of one's home. NBA Live 95 also sported a unique 30-degree-overhead court view, providing gamers a unique perspective on the game. The game was published by EA Sports in 1994 for the Sega Genesis and the Super Nintendo. A version for the PC was also released. EA Sports continued to release NBA Live games every year through 2010. Then, after no releases between 2011 and 2013, the series picked back up again in 2014.
NBA Jam– NBA Jam rose to popularity in arcade rooms around the country in 1993. With fast-paced two-on-two action, the game boasted exaggerated gameplay. Players would leap incredibly high when dunking the ball often performing outlandish maneuvers. Whenever a player would hit three baskets in a row, he would become "on fire" and stay that way until the other team scored. Hitting four baskets in a row would turn the basket "on fire." This crazy type of action was such a hit that in 1994, the game was declared the highest earning arcade game of all time. That same year, NBA Jam would be released on several of the top consoles and hand-held gaming devices at the time, including the Sega Genesis, the Sega Game Gear, the Nintendo NES, and the Nintendo Game Boy.
NBA 2K11– EA Sports' NBA Live series and 2K Sports' NBA 2K series went head-to-head for years in vying for their customers' adoration. EA Sports usually won by a slight margin, but in 2010 things started to change. When NBA 2K11 was released, 2K Sports finally claimed the edge. The game was released for the Xbox 360, the PlayStation 2 and 3, Nintendo Wii, Sony PSP, and Windows. Featuring a number of different games involving Michael Jordan and the ability to play with some of the NBA's most beloved teams, like the 1998 Chicago Bulls and the 1986 Boston Celtics, players were exposed to the full potential of playing basketball on the next generation consoles. NBA 2K11 is still regarded as not just one of the best basketball simulation games, but one of the best sports video games of all time.
College Hoops 2K8– As impressive as the evolution of basketball simulations has been, few can compare to the greatness of College Hoops 2K8. Another 2K Sports release, this game took everything that was great about 2K's NBA games and injected it into collegiate hoops action. But, this game allowed players to build their own college basketball program, start a career as a coach, recruit players, and start a tournament. The graphics and sounds were top-notch and the gameplay was second-to-none. Eventually, the College Hoops line would be eliminated due to several lawsuits related to compensating NCAA players, but at least this one got to see the light of day because it is considered by many to be the best basketball simulation  It was released in 2007 for play on the Xbox 360, the PlayStation 2, and the PlayStation 3. With March Madness just a few weeks away, what better way to get ready for it than by revisiting this classic college basketball game?
Of course, history has no shortage of incredible basketball simulations. The above five are often considered among the best, but they're not the only games in town. Other titles that could have easily been mentioned on this list include NBA 2K1, NBA Inside Drive 2002, NBA Live 2000, and NBA 2K13.