Omni Military Loans Blog:
The Veterans' Employment and Training Service (VETS)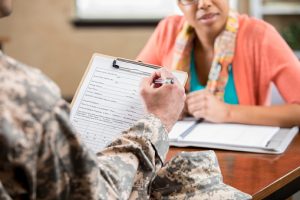 If you are a service member who is separating from the United States Armed Forces, there are many organizations that can help you with your career transition. One leading national organization designed to assist separating service members, as well as veterans and military spouses, is the Veterans' Employment and Training Service (VETS).  Established by the United States Department of Labor, the mission of VETS, according to its website, is as follows: 
"We prepare America's veterans, service members and their spouses, for meaningful careers, provide them with employment resources and expertise, protect their employment rights and promote their employment opportunities."
Through the VETS website you can access the following:  
Job search help – Search for jobs, explore careers and apprenticeships, and find training and one-on-one assistance. You can also connect to a resume builder, as well as a skills translator, which will help you match your military experience to the civilian equivalent. Through the site you can also access a Woman's Bureau Resources page that will connect you to resources for women in the labor force.  
Compliance assistance – Obtain information about the Uniformed Services Employment and Reemployment Rights Act (USERRA) which protects the employment rights of veterans and prohibits discrimination.  
Support for military spouse employment – VETS supports a variety of programs for veterans and their spouses. Visit this page to access a range of helpful career information resources including the Workforce Innovation and Opportunity Act Desk Reference for Military Spouses.  
Veterans Hiring Toolkit – This step-by-step toolkit for employers helps companies develop or enhance a veterans hiring initiative.  
Women Veteran Program information – The Women Veteran Program monitors the employment situation of women veterans. Download factsheets, webinars and more.  
Frequently asked questions – Get answers to questions about military to civilian employment, job rights, policies, programs for veterans with a service-connected disability, and more.   
VETS Regional Office listing – For in-person assistance, visit a regional office. VETS has offices in every state.  
Additional Career Assistance for Transitioning Service Members 
For additional career tips and resources for transitioning service members, check out these articles from Omni Financial: 
Veteran Job Fairs and Job Listings 
Resources for Veteran Entrepreneurs 
Interview Tips for Veterans: Dos and Don'ts 
How to use LinkedIn for Your Job Search 
5 Global Companies that Hire Veterans 
As a member of the military, you have a range of skills and qualities that civilian employers value. Omni Financial, for example, is one of many companies that understands how much veterans have to offer.  Veterans are natural leaders and have a strong work ethic. They possess knowledge that sets them apart from other job candidates and makes them uniquely qualified for many positions.  Even if it takes some time to find your perfect job fit, stay positive and keep working toward your career goals. Good luck!