Last Updated November 22, 2022.
Saturday, December 20 was a cold and rainy day, but that didn't stop 11 motorcyclists, all active duty and retired soldiers from the Fort Stewart, Georgia area, from participating in an Omni Financial-sponsored charity ride to benefit the Hinesville Homeless Prevention Program.
The charity motorcycle ride was the brainchild of Omni's Hinesville office General Manager and retired Army Sergeant Major Ray Curtis. The idea grew from a simple challenge. On a cold November morning, Ray's son, Ramon Curtis, an Airman stationed at Columbus Air Force Base in Mississippi made a call to his father challenging him to ride his Harley-Davidson motorcycle to work.  After accepting that challenge and riding in 26 degree weather, Curtis arrived at work on his motorcycle. Later that day, Curtis placed a challenge to Sgt Smith, the husband of an employee who also rides, to ride the next day.   Sgt Smith accepted the challenge and the two discussed their passion for riding and for helping the community. This materialized into an idea that would unite the two passions: a charity ride where bikers would collect clothes, blankets, and diapers for people in need in their local community.
To bring his idea to fruition, Curtis first contacted military retired Daisy Jones, coordinator for the Hinesville Homeless Prevention Program, to talk about his plan and to see how he could help the organization.  The program, which provides a variety of services for homeless and displaced families, is always in need of clothing and other necessities to give to clients or people who stop by their office.  Jones welcomed the opportunity to receive extra donations, especially during the holiday season.
Omni Financial Becomes a Proud Sponsor
Running a charity ride is a big undertaking, so Curtis then approached Omni Financial District Manager and Senior Vice President Jeff Heckert about sponsoring the event.  Knowing how much the entire Omni Financial organization is committed to giving back to the community; Heckert was thrilled to support such an effort and immediately went to work on a proposal for Omni's involvement in the charity ride.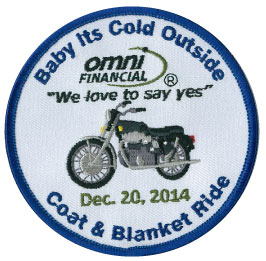 Curtis set up collection boxes at his Omni Financial Hinesville office, as well as at several other local businesses including McDonald's, Judd's Custom Creations and Savannah Harley-Davidson.  Coats, jackets, shoes, adult and children's clothing, blankets, and over 1,000 diapers were collected.  In addition, participating bikers were asked to donate a coat or blanket, diapers, or an unwrapped new toy as an "entrance fee."
The Successful Ride Day Rally
On the big day, the bikers met at Omni Financial's office and were treated to free coffee and pastries.  From there, they started their 125-mile round trip journey from Hinesville to Savannah where they picked up donated items.
The event touched the entire Hinesville community. The City of Hinesville Mayor visited the event, and many of the individuals watching the ride made personal donations. Amongst the donations was a brand new leather jacket as well as a donation of $100 from the Omni Financial District Manager Jeff Heckert. At the end of the ride, the bikers returned to Omni's office where the donations were sorted for distribution.  According to Daisy Jones, some of the clothes and blankets will be kept at the Hinesville Homeless Prevention Program office, while others will be given to local churches for free distribution. Diapers were donated to the Cover Me Diaper Bank in Hinesville.
Retired Sgt. Maj. Ray Curtis commends Omni Financial and the community for coming together to help the less fortunate.  "We thought this could turn into something really good," Curtis said.  And indeed it did.  Visit Omni's News & Events page for more information on upcoming happenings in your area.  Omni Financial is a proud sponsor of many local community events throughout the year!
The information provided in this blog post is for informational purposes only.

Friendship Rewards Program
Refer a friend and get a $25 Omni Gift Card